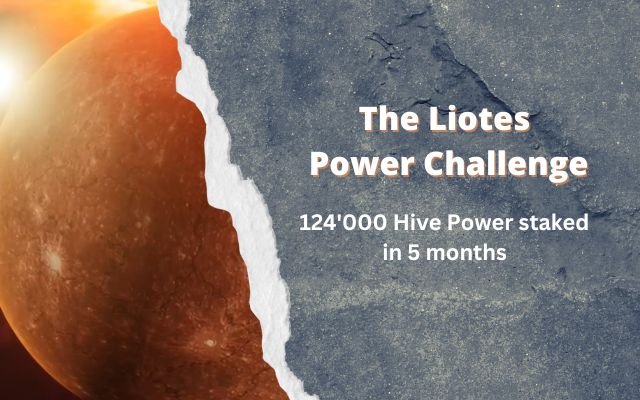 At the end of 2022, we started the Liotes Power Challenge. The idea is to stake as much Hive power as possible during 2023. The more you power up, the more rewards you will earn.
The reward pool
The @liotes.one account is the reward pool of this challenge. With this account we create comments on our liotes posts and the income from these comments goes into the pool as follows:
The HBD is exchanged in HP and with the staked rewards are delegated to @liotes.voter and generate LEN on a daily basis
The tribe rewards are exchanged and used to purchase LENM tokens.
LEN:LENM are paired in the diesel pool and generate rewards
At the end of the challenge, in December 2023. The liquidity is taken out of the diesel pool and 50% (the LEN stake) will be distributed to the participants of this challenge. The remaining 50% will be added back to the diesel pool and finance future challenges.
50% of the rewards of this post directly go to @liotes.one, the reward pot of this challenge
Check how much is in the reward pool in the comment below this post.
How will the reward pool be distributed?
The total amount of the pot will be distributed to all the people who have a positive sold in Hive Power. The amount that each participant recieves will be according to the ranking. The higher your rank, the more you will earn.
The ranking (25.5.2023)
We have staked 124'000 HP in five months
At the beginning of this challenge, all participants together owned 950'863 HP. Today, we collectively own 1'075'208 Hive Power. This is an increase of 124'345 Over 5 months.
During the last month, the increase was 18'450 Hive Power, which is less than the previous months (25'000 in January and February, 28'000 in March, 26'000 in April). The reason is that some people had to power down. We are full in the bear market, paired with inflation and it's totally normal that some people need to take some money out.
Liotes
A project run by @ph1102 and @achim03
Resources