Hi, there! Greetings. Hope that you are having a fantastic time.
Here is my 3rd curated collection post on the #introduceyourself tag. It contains posts of the newcomers. I have read, curated and commented on each of the posts. A warm welcome and a few suggestions may help them start a smooth journey here.
this post is best seen in peakd.com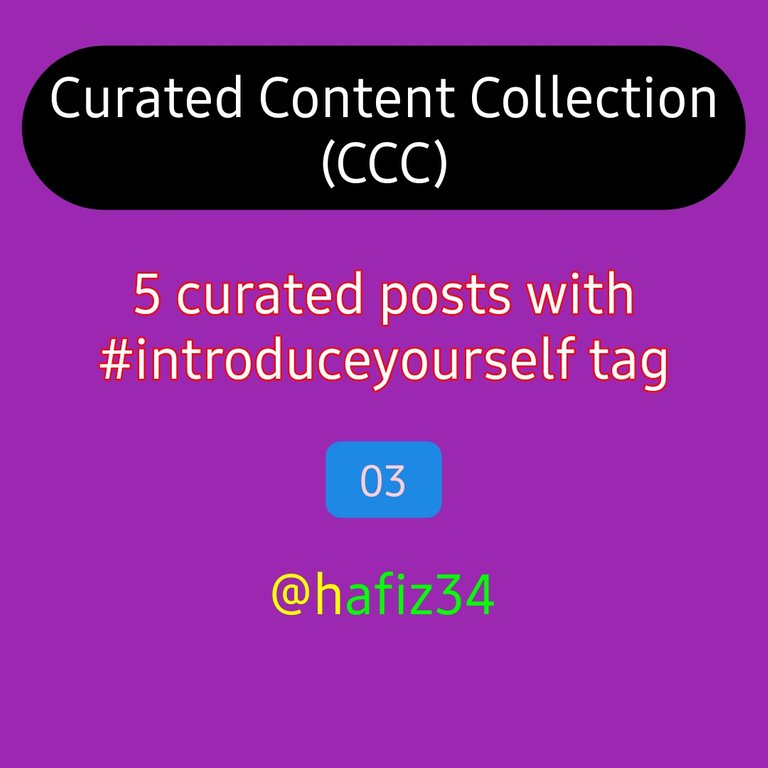 ---
Let us welcome Bhanika Shaniya (@bhanika-shuniya)! She is an SSC (secondary school certificate) candidate from Bangladesh. She likes to do handcrafting and painting. She is also learning how to cook!
https://peakd.com/hive-174578/@bhanika-shuniya/introduce-myself-bhanika-shuniya
---
Meet Shanush Akrawan (@shanush-akrawan), a 20-years old want-to-a-programmer from India. He has several hobbies such as playing video games, reading books, watching television etc. And he wants to participate in different challenges.
https://peakd.com/hive-174578/@shanush-akrawan/introduceyourself-on-hive-platform-shanush-akrawan
---
Let me present you Adaeze Prisca ONUORAH (@prisca93), a blockchain technologist, coin analyst and crypto trader from Nigeria. She is hoping to produce content on the above-mentioned topics.
https://peakd.com/introduceyourself/@prisca93/my-introduction-to-the-hive
---
Say hi to Joe (@ormr5912), a 30-years old father and lifelong gamer. He recently lost his job. He is here to start from zero. And he to get something from here.
https://peakd.com/introduceyourself/@ormr5912/a-little-about-me-and-my-idea
---
Greet Chanbronh (@chanbronh),
a young talented boy from Abia state, Nigeria. He loves to take part in various kinds of sports like volleyball 🏐, tennis ball 🎾, hockey etc.
https://peakd.com/hive-174578/@chanbronh/introduce-myself-chanbronh
---
WeAreAlive tribe: An active and promising tribe on Hive
Do you know that we have an active community (I am alive challenge) or tribe (WeAreAlive) on the Hive blockchain, and it is easy to participate? You have to just tell the world that you are alive. Follow these easy steps mentioned in the following image and/or visit here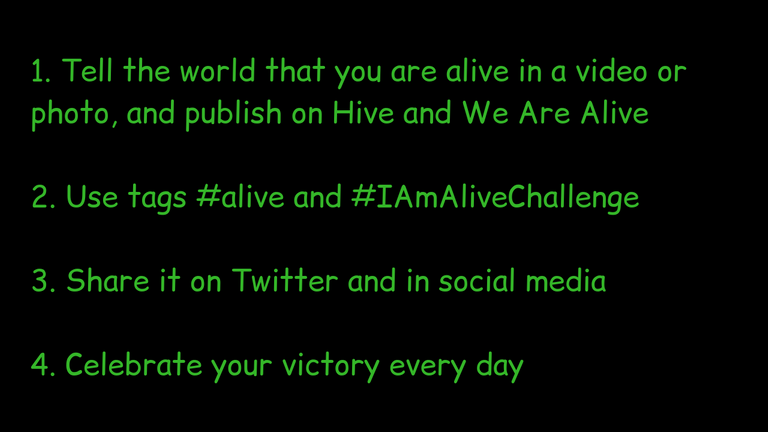 image credit goes to @flaxz
This tribe has its token known as ALIVE token. Meaning, by participating in the tribe (or community), besides $hive, you can earn ALIVE token as well in your Hive-engine (H-E) wallet. You can earn ALIVE tokens in the following ways:
As Author rewards: From your posts with #alive tag and quality & meaningful comments, upvoted by the community account and top ALIVE token holders.

As Curation reward: If you stake the ALIVE token in your H-E wallet, you can curate other members posts/comments and earn ALIVE tokens. The reward is split 50-50 between the author and curator.

By Mining ALIVEM tokens: You can buy ALIVEM tokens in the H-E and stake. This mining token will give you ALIVE tokens. In this tribe, the price and availability of the mining token are kinda different. Currently, 1000 ALIVEM is in circulation and anyone can buy with 5 hives each. For the next 1000 ALIVEM, the price will be double (10 hives) and it will keep doubling for every subsequent 1000 ALIVEM. So, if you want to buy the mining token, now is the time. About ALIVEM

By getting tips: You can get 0.1 ALIVE tokens as a tip for every meaningful comment in the community or tribe. The token holders can distribute the tips.

By taking part in the contest: The person behind the tribe/community is @flaxz. Currently, he is arranging a weekly contest where you can get ALIVE tokens if you stake your token in the H-E wallet. About the contest
What are you waiting for?
---
Want to learn about Affiliate marketing and start earning as an affiliate? ClickTrackProfit is the perfect place to start. Join today, go through the easy steps there and start earning the commissions.