I have been actively participating in the WeAreAlive Tribe and community for the past several months. Every day I am reading the posts of other members, sharing on Twitter and curating them. Here is my fourth curated content collection (CCC) for the tribe with the #alive tag.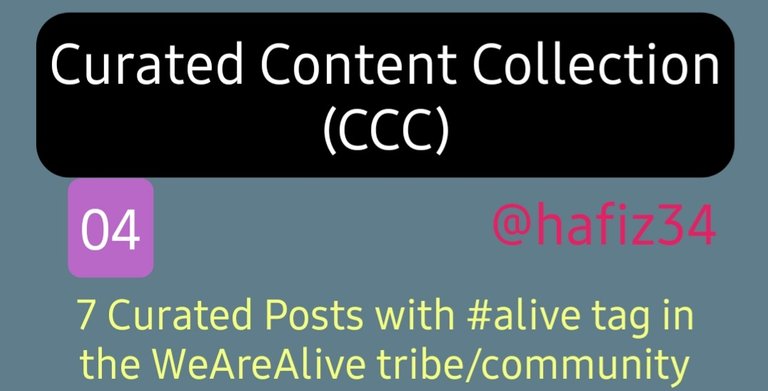 It is important to mention that the content creators here are earning Hive, ALIVE token and a small amount of CTP token if they use the tag.
---
https://peakd.com/hive-155221/@harpreetjanda/i-am-alive-challenge-day-462e9d9468d84
Harpreet Janda (@harpreetjanda) has shared a beautiful photograph in his 238th participation in the alive challenge contest. He was busy with work and it was late. So he couldn't make it for the evening walk.
---
https://peakd.com/relevant/@aiovo/iaac-71-my-pc-broke
Aiovo's (@aiovo) personal computer is broken and it stopped working. He is trying to fix it at home. If can't, he is planning to take it to the repair shop. However, he is worried about the repair cost.
---
https://peakd.com/relevant/@darmst5339/iaac-day-73-don-t-just-sit-there-take-action
David (@darmst5339) shared that he started reading a book about how to become a rich person. The book authors talked about taking action, not just sitting tight.
---
https://peakd.com/relevant/@mlrequena78/iaac-81-day-12-08-2021
Marcos Requena (@mlrequena78) shared his fear concerning the chance of the pandemic going beyond control due to the Tokyo Olympics. What's your view?
---
https://peakd.com/hive-196037/@alokkumar121/xq57fqtl9eg
In his video, Alok Kumar (@alokkumar121) sent us an important message. If we do our best today, it will be the best preparation for tomorrow. He also talked about COVID19 situation in his country.
---
https://peakd.com/hive-155221/@edgerik/informal-trade-we-are-alive-iaac-89-august-12-2021
Edgerik (@edgerik), from Venezuela, a strong voice against the current government has shared that due to high taxes and low salary, people are choosing informal trading instead of joining a company or starting a job.
---
https://peakd.com/hive-155221/@imfarhad/let-the-traffic-flow-via-cups-and-pistol-yes-its-all-virtual--
Farhad Kias (@imfarhad) finished another scavenger hunt on the @clicktrackprofit's website. He always do multitasking (watching cricket match, tv series or anime series and hunting Luke)
---
Do you hear first-time about this WeAreAlive tribe? No worries! I am going to talk about the tribe as well. Keep reading.
According to Tribaldex, the current price of ALIVE token is 0.03030001hive and $0.0.0147074
.
WeAreAlive tribe: An active and promising tribe on Hive
Do you know that we have an active community (We Are Alive Tribe) or tribe (WeAreAlive) on the Hive blockchain, and it is easy to participate? You have to just tell the world that you are alive. Follow these easy steps mentioned in the following image and/or visit here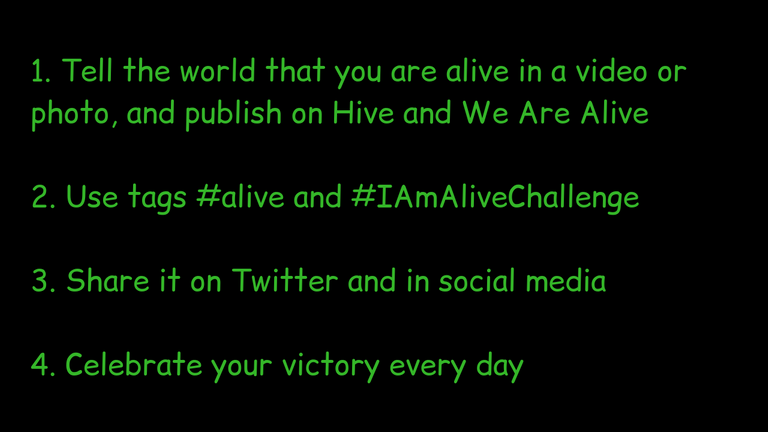 image credit goes to @flaxz
This tribe has its token known as ALIVE token. Meaning, by participating in the tribe (or community), besides $hive, you can earn ALIVE tokens as well in your Hive-engine (H-E) wallet. You can earn ALIVE tokens in the following ways:
As Author rewards: From your posts with #alive tag and quality & meaningful comments, upvoted by the community account and top ALIVE token holders.

As Curation reward: If you stake the ALIVE token in your H-E wallet, you can curate other members' posts/comments and earn ALIVE tokens. The reward is split 50-50 between the author and curator.

By Mining ALIVEM tokens: You can buy ALIVEM tokens in the H-E and stake. This mining token will give you ALIVE tokens. In this tribe, the price and availability of the mining token are kinda different. Currently, 1000 ALIVEM is in circulation and anyone can buy with 5 hives each. For the next 1000 ALIVEM, the price will double (10 hives) and it will keep doubling for every subsequent 1000 ALIVEM. So, if you want to buy the mining token, now is the time. About ALIVEM

By getting tips: You can get 0.1 ALIVE tokens as a tip for every meaningful comment in the community or tribe. The token holders can distribute the tips.

By taking part in the contest: The person behind the tribe/community is @flaxz. Currently, he is arranging a weekly contest where you can get ALIVE tokens if you stake your token in the H-E wallet. About the contest
What are you waiting for?
---
If you are new to the online earning arena, without proper guidance, you may end up wasting your time and efforts in vain. Start Earning Today program will give you the right direction.



---
Want to learn about Affiliate marketing and start earning as an affiliate? ClickTrackProfit is the perfect place to start. Join today, go through the easy steps there and start earning the commissions.



---