I have been actively participating in the WeAreAlive Tribe and community for the past several months. Every day I am reading the posts of other members, sharing on Twitter and curating them. Here is my fifth curated content collection (CCC) for the tribe with the #alive tag.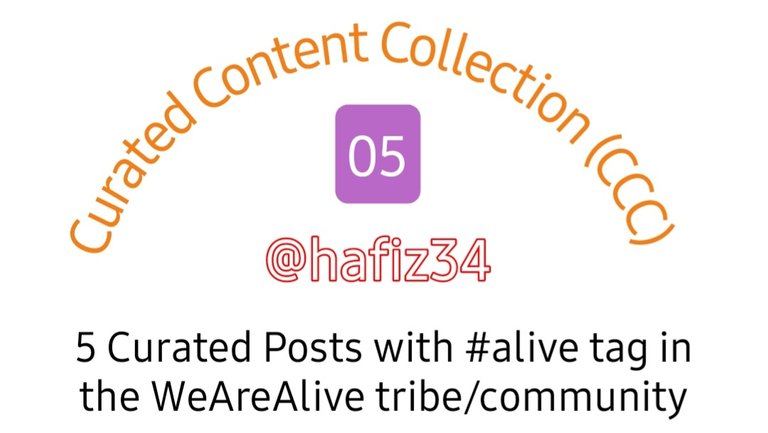 It is important to mention that the content creators here are earning mainly ALIVE tokens from my curations. They are also earning a small amount of hive and CTP tokens (if they use the tag).
---
https://peakd.com/hive-148441/@certain/okmdjgff
On the 15th of August, Certain (@certain) completed his 3 years journey on the hive blockchain. He worked tirelessly in the last 3 years which brought him to his current position in the platform with a reputation score of 76.
---
https://peakd.com/hive-155221/@imfarhad/lets-play-you-hide-i-will-find-you
Farhad Kias (@imfarhad) was playing hide and seek with Luke in the Listopia of clicktrackprofit.com. He found Luke 5 times, hence finished the scavenger hunt. He also talked about a 30-days content challenge by the @clicktrackprofit team. He also informed us about the test cricket match going on between India and England.
---
https://peakd.com/ctp/@jimmy.adames/i-found-seashells-and-luke-by-the-seashore
Jimmy Adames (@jimmy.adames) shared with us that he does his Orangetheory Fitness workouts on Monday. He also shared a post link for participating in the 30-days CTP content challenge. And, he found Luke, the list builder once in the SeaLifeHits traffic exchange site.
---
https://peakd.com/hive-155221/@ddn688/espn-desafio-am-alive-post-120-or-actividad-que-se-paga-or-eng-am-alive-challenge-post-120-or-activity-that-pays
If someone is active in the hive platform and in any of the community or tribes, it won't go unnoticed. @ddn688 shared about the outcome of being active on the platform. He is using the @ecency app, earning points and using the point to boost his content. Pretty amazing!
---
https://peakd.com/hive-155221/@captain.alive/i-am-alive-challenge-day-50-iaac
Captain (@captain.alive) was busy building his own program. So he couldn't post for the last 11 days. Now, he is back with his 50th participation in the I am alive challenge contest. He also visited a beach with his friend this time.
---
Do you hear first-time about this WeAreAlive tribe? No worries! I am going to talk about the tribe as well. Keep reading.
According to Tribaldex, the current price of ALIVE token is 0.03101000 hive and $0.015010
WeAreAlive tribe: An active and promising tribe on Hive
Do you know that we have an active community (We Are Alive Tribe) or tribe (WeAreAlive) on the Hive blockchain, and it is easy to participate? You have to just tell the world that you are alive. Follow these easy steps mentioned in the following image and/or visit here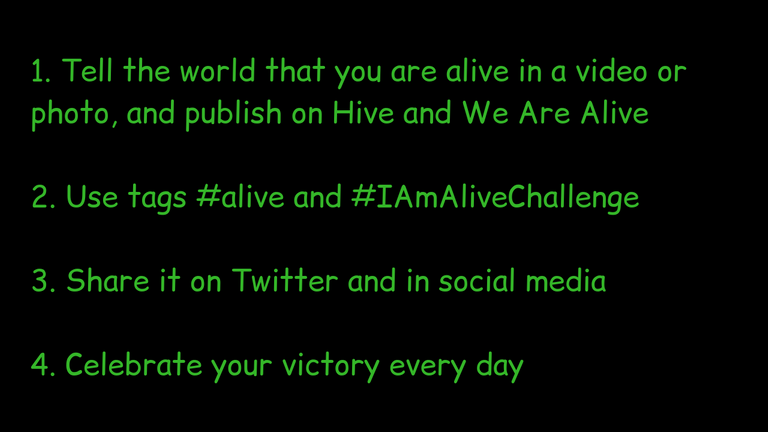 image credit goes to @flaxz
This tribe has its token known as ALIVE token. Meaning, by participating in the tribe (or community), besides $hive, you can earn ALIVE tokens as well in your Hive-engine (H-E) wallet. You can earn ALIVE tokens in the following ways:
As Author rewards: From your posts with #alive tag and quality & meaningful comments, upvoted by the community account and top ALIVE token holders.

As Curation reward: If you stake the ALIVE token in your H-E wallet, you can curate other members' posts/comments and earn ALIVE tokens. The reward is split 50-50 between the author and curator.

By Mining ALIVEM tokens: You can buy ALIVEM tokens in the H-E and stake. This mining token will give you ALIVE tokens. In this tribe, the price and availability of the mining token are kinda different. Currently, 1000 ALIVEM is in circulation and anyone can buy with 5 hives each. For the next 1000 ALIVEM, the price will double (10 hives) and it will keep doubling for every subsequent 1000 ALIVEM. So, if you want to buy the mining token, now is the time. About ALIVEM

By getting tips: You can get 0.1 ALIVE tokens as a tip for every meaningful comment in the community or tribe. The token holders can distribute the tips.

By taking part in the contest: The person behind the tribe/community is @flaxz. Currently, he is arranging a weekly contest where you can get ALIVE tokens if you stake your token in the H-E wallet. About the contest
What are you waiting for?
---
If you are new to the online earning arena, without proper guidance, you may end up wasting your time and efforts in vain. Start Earning Today program will give you the right direction.



---
Want to learn about Affiliate marketing and start earning as an affiliate? ClickTrackProfit is the perfect place to start. Join today, go through the easy steps there and start earning the commissions.



---