I have been actively participating in the WeAreAlive Tribe and community for the past several months. Every day I am reading the posts of other members, sharing on Twitter and curating them. Here is my seventh curated content collection (CCC) for the tribe with the #alive tag.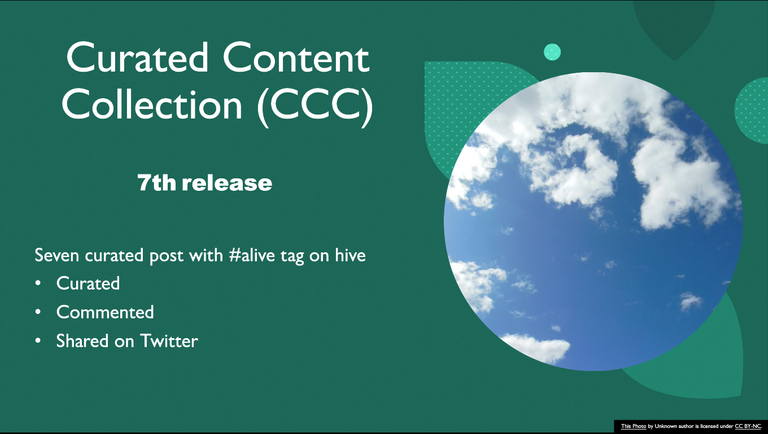 this image is made with PowerPoint of office.com. The image is CC attributed from the PP design section
It is important to mention that the content creators here are earning mainly ALIVE tokens from my curations. They are also earning a small amount of hive and CTP tokens (if they use the tag).
---
https://ecency.com/hive-155221/@edgerik/the-use-of-cryptocurrencies-has-increased-up-to-881percent-this-year-we-are-alive-iaac-100-august-23-2021
Edger (@edgerik) completed his 100th post for the WeAreAlive community. He also shared a piece of interesting information. More people are coming to the crypto world and the user cryptocurrency has been increased by 881% this year. Good time ahead, isn't it?
---
https://ecency.com/hive-155221/@dreamingirwin/diaries-of-a-fluffy-rican-i-am-alive-and-blessed
Irwin (@dreamingirwin) shared about his life in Colorada. He is there to escape from his previous routine and now enjoying working himself. He shared some beautiful photographs of his neighbourhood as well.
---
https://ecency.com/hive-155221/@harpreetjanda/i-am-alive-challenge-day-0a957a78b3f86
Harpreet (@harpreetjanda) talked about his new sports activities. He started playing Tennis and day by day he is improving his skilness. However, he didn't mention who inspired him; Djokovic or Nadal or Federer!
---
https://ecency.com/hive-155221/@ddn688/am-alive-challenge-post-125
How is the weather at your place? It was heavy raining at @ddn688's place last night. It resulted in lowering the temperature to 18 degrees celsius. He was shivering and feeling cold.
---
https://ecency.com/hive-155221/@captain.alive/i-am-alive-challenge-post-57-iaac
The captain (@captain.alive) went to enjoy a live concert by Alanis Morissette last night, along with his wife. Hope that he took adequate health measures. He also fixed his weed eater!
---
https://ecency.com/hive-155221/@angie08/i-am-alive-day-41
Angela (@angie08), a teacher by profession, took her nephew for a Swim lesson. She was intrigued to see the swimming of the kids with their little hands and feet.
---
https://ecency.com/hive-155221/@iamraincrystal/-30430571425e74ir8d336x006181x613
Rosyel Sawali (@iamraincrystal) had a better Monday this week than the previous weeks. As usual, she talked about her cats. One of her cats, named Bon, is going to celebrate his first birthday soon.
---
Do you hear first-time about this WeAreAlive tribe? No worries! I am going to talk about the tribe as well. Keep reading.
According to Tribaldex, the current price of ALIVE token is 0.03150600 hive and $0.0167397
WeAreAlive tribe: An active and promising tribe on Hive
Do you know that we have an active community (We Are Alive Tribe) or tribe (WeAreAlive) on the Hive blockchain, and it is easy to participate? You have to just tell the world that you are alive. Follow these easy steps mentioned in the following image and/or visit here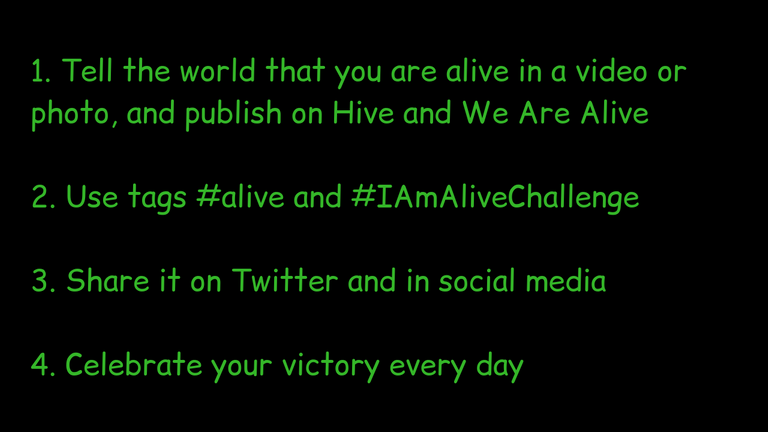 image credit goes to @flaxz
This tribe has its token known as ALIVE token. Meaning, by participating in the tribe (or community), besides $hive, you can earn ALIVE tokens as well in your Hive-engine (H-E) wallet. You can earn ALIVE tokens in the following ways:
As Author rewards: From your posts with #alive tag and quality & meaningful comments, upvoted by the community account and top ALIVE token holders.

As Curation reward: If you stake the ALIVE token in your H-E wallet, you can curate other members' posts/comments and earn ALIVE tokens. The reward is split 50-50 between the author and curator.

By Mining ALIVEM tokens: You can buy ALIVEM tokens in the H-E and stake. This mining token will give you ALIVE tokens. In this tribe, the price and availability of the mining token are kinda different. Currently, 1000 ALIVEM is in circulation and anyone can buy with 5 hives each. For the next 1000 ALIVEM, the price will double (10 hives) and it will keep doubling for every subsequent 1000 ALIVEM. So, if you want to buy the mining token, now is the time. About ALIVEM

By getting tips: You can get 0.1 ALIVE tokens as a tip for every meaningful comment in the community or tribe. The token holders can distribute the tips.

By taking part in the contest: The person behind the tribe/community is @flaxz. Currently, he is arranging a weekly contest where you can get ALIVE tokens if you stake your token in the H-E wallet. About the contest
What are you waiting for?
---
If you are new to the online earning arena, without proper guidance, you may end up wasting your time and efforts in vain. Start Earning Today program will give you the right direction.



---
Want to learn about Affiliate marketing and start earning as an affiliate? ClickTrackProfit is the perfect place to start. Join today, go through the easy steps there and start earning the commissions.



---