I have been actively participating in the WeAreAlive Tribe and community for the past several months. Every day I am reading the posts of other members, sharing on Twitter and curating them. Here is my ninth curated content collection (CCC) for the tribe with the #alive tag.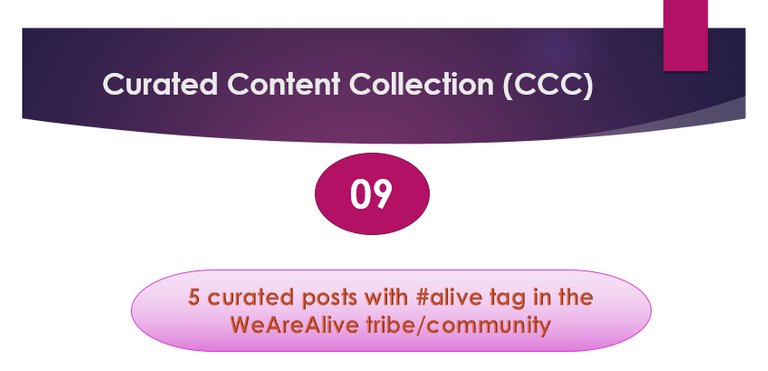 ---
https://peakd.com/hive-155221/@awah/sometimes-its-the-simple-things-in-life-that-bring-the-greatest-satisfaction
Awah (@awah) made his first post for the #alive tribe. He talked about his recent birthday celebration and quality family time in a Turkish restaurant. He also shared an important philosophical aspect of our life. Check it out.
---
https://peakd.com/hive-155221/@edgerik/a-batch-of-second-doses-of-sputnik-v-arrives-to-venezuela-we-are-alive-iaac-113-september-06-2021
The Venezuelans have some good news regarding this COVID19 pandemic. Edger (@edgerik) has shared in this post that they have received a batch of Sputnik V COVID19 vaccines. And also, they are going to receive the first supply of vaccines under the COVAX initiative of WHO.
---
https://peakd.com/hive-155221/@daniky/never-prioritize-money-over-life-nunca-priorice-el-dinero-sobre-la-vida
Daniel (@daniky) reminded us about an important aspect of our life that is often forgotten by us. We shouldn't prioritize money over our lives and our loved ones. And to obtain the money we shouldn't go down a filthy path. Check out and have this reminder.
---
https://peakd.com/hive-155221/@madushanka/wcbmylhr
Madushanka from Sri Lanka (@madushanka) has shared in this video that the #COVID19 situation in his place is improving bit by bit. The infection and death rates are decreasing gradually. He has also reminded us to carry out the duties and responsibilities given to us.
---
https://peakd.com/hive-155221/@jlufer/481-consecutive-post-in-wearealivetribe-grateful-committed-and-happy-to-fulfill-my-dreams-thanks-to-hive
Jose (@jlufe) is very happy today. He is happy because he is getting the expected results for his efforts in the hive. With the money earned from here, he is able to meet the expense in his offline life. He doesn't forget to show his gratitude to his supporters.
---
Do you hear first-time about this WeAreAlive tribe? No worries! I am going to talk about the tribe as well. Keep reading.
According to Tribaldex, the current price of ALIVE token is 0.04993989 hive and $0.0412601
WeAreAlive tribe: An active and promising tribe on Hive
Do you know that we have an active community (We Are Alive Tribe) or tribe (WeAreAlive) on the Hive blockchain, and it is easy to participate? You have to just tell the world that you are alive. Follow these easy steps mentioned in the following image and/or visit here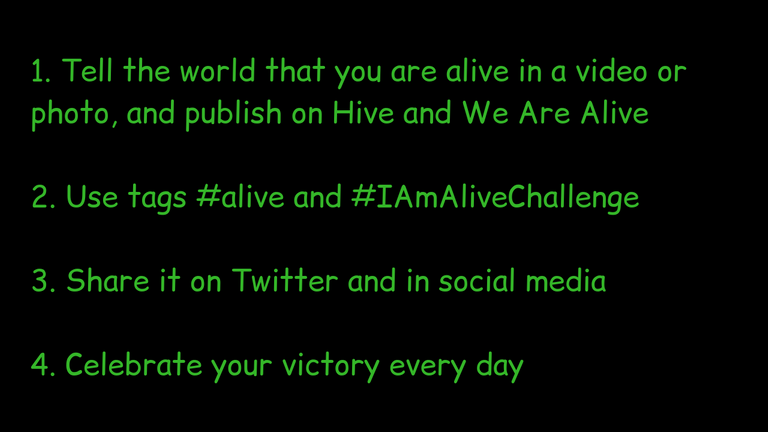 image credit goes to @flaxz
This tribe has its token known as ALIVE token. Meaning, by participating in the tribe (or community), besides $hive, you can earn ALIVE tokens as well in your Hive-engine (H-E) wallet. You can earn ALIVE tokens in the following ways:
As Author rewards: From your posts with #alive tag and quality & meaningful comments, upvoted by the community account and top ALIVE token holders.

As Curation reward: If you stake the ALIVE token in your H-E wallet, you can curate other members' posts/comments and earn ALIVE tokens. The reward is split 50-50 between the author and curator.

By Mining ALIVEM tokens: You can buy ALIVEM tokens in the H-E and stake. This mining token will give you ALIVE tokens. In this tribe, the price and availability of the mining token are kinda different. Currently, 1000 ALIVEM is in circulation and anyone can buy with 5 hives each. For the next 1000 ALIVEM, the price will double (10 hives) and it will keep doubling for every subsequent 1000 ALIVEM. So, if you want to buy the mining token, now is the time. About ALIVEM

By getting tips: You can get 0.1 ALIVE tokens as a tip for every meaningful comment in the community or tribe. The token holders can distribute the tips.

By taking part in the contest: The person behind the tribe/community is @flaxz. Currently, he is arranging a weekly contest where you can get ALIVE tokens if you stake your token in the H-E wallet. About the contest
What are you waiting for?
---
If you are new to the online earning arena, without proper guidance, you may end up wasting your time and efforts in vain. Start Earning Today program will give you the right direction.



---
Want to learn about Affiliate marketing and start earning as an affiliate? ClickTrackProfit is the perfect place to start. Join today, go through the easy steps there and start earning the commissions.



---