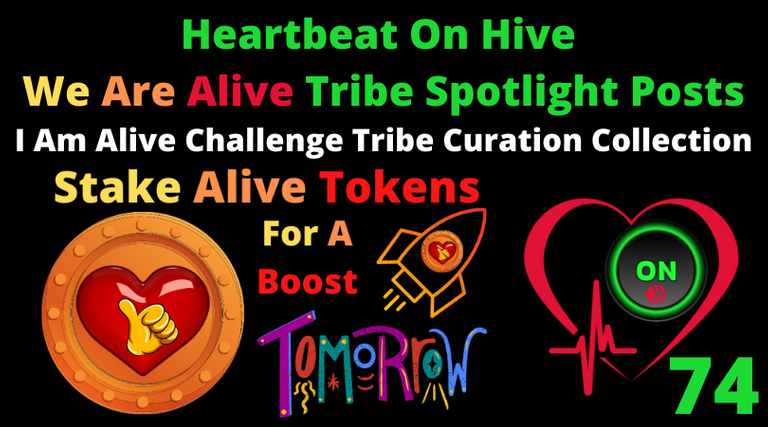 Heartbeat On Hive I Am Alive Challenge Curation Collection 74
We Are Alive Tribe
Heartbeat On Hive has been created to support the We Are Alive Tribe Community and to Onboard people to Hive you can read more about our project here.
These curation collections we create will be promoted.
The Plan
Monday - Updates, plan, goals plus We Are Alive Tribe Curation Collection
Tuesday - We Are Alive Tribe Curation Collection
Wednesday - I Am Alive Challenge Curation Collection
Thursday - Larry is Alive Curation Collection
Friday - Alive And Thriving Curation Collection
Saturday - Alive Weekend Curation Collection
Sunday - You Are Alive Curation Collection
Today we celebrate the I Am Alive Challenge
I Am Alive Challenge
Tell the world that you are alive in a video or photo, and publish it on Hive and We Are Alive
Use Tags #alive and #IAmAliveChallenge
Share it on Twitter and other social media
Celebrate your victory everyday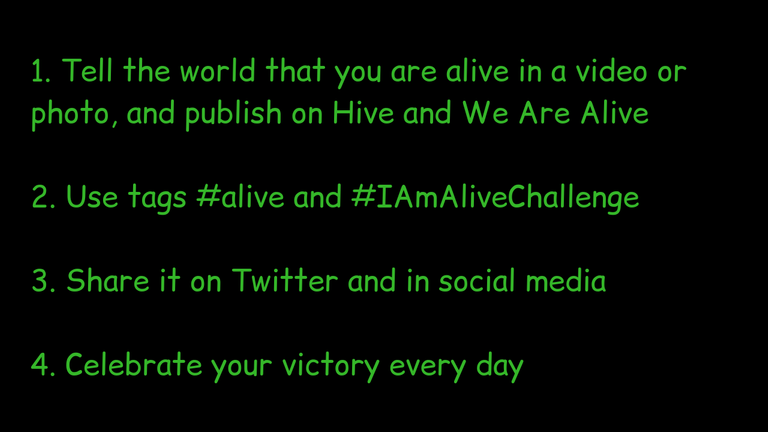 Curation collections are a great way to increase your network, earn rewards as well as support content creators posts within the community.
Please visit, upvote and comment on the posts below to help them out.
A community that works together grows together.
https://peakd.com/hive-155221/@daniky/my-days-diary-242
@daniky reminds us to be grateful everyday and to not take our health for granted.
https://peakd.com/hive-155221/@pedrobrito2004/eng-spa-day-788-dia
@pedrobrito2004 shares his 788 day and some French history about the creation of Marseille.
https://peakd.com/hive-155221/@flaxz/actifit-flaxz-20220510t212052449z-hive-155221
@flaxz shares photos from his day as he celebrates completing his daily activities.
https://peakd.com/hive-193552/@awah/actifit-awah-20220510t184710282z
@awah gets a break from routine and hits the rowing machine to stay active working from home.
https://peakd.com/hive-155221/@bradleyarrow/jqrshbnl
@bradleyarrow shares all about his DHF proposal for a local childrens hosptial and his progress on Lisnerds in this video
Thanks for reading
👉 @bradleyarrow wants to get you more exposure for your post just mention him.👍
I have created a curation signature for future posts, so you know you have been curated 🤣
👇This is how it will look from now on.👇😎
I will be including this content on the @heartbeatonhive curation collection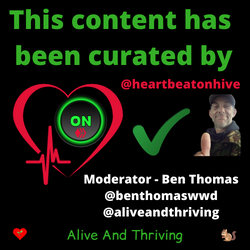 This will include an upvote and reblog of your content.
This will be a regular feature on this account, if you feel like this is something you would like to support please consider delegating the support would be much appreciated.😉
Our Alive Chat
https://peakd.com/hive-155221/@alive.chat/alive-chat-may-11-2022-aliveandthriving-stake-your-alive-tokens-and-get-a-stake-boost-tomorrow @alive.chat Join us for an alive.chat everyday, Stake Alive Tokens
Community Contest
I Am Alive Engagement Contest
https://peakd.com/hive-155221/@iamalivechalleng/alive-engagement-contest-win-200-hive-power-every-day-open-for-entries-may-10-2022
@iamalivechalleng Simply make a meaningful comment on the spotlight post and mention them in the contest post to enter daily for a chance to win a delegation of Hive Power or Alive Power
For More Curation Collections
https://peakd.com/hive-110144/@heartbeatonhive/heartbeat-on-hive-we-are-alive-tribe-curation-collection-73
@heartbeatonhive sharing our last curation collection of amazing tribe posts.
https://peakd.com/hive-155221/@aliveandthriving/alive-and-thriving-may-10-2022-awesome-posts-collection
@aliveandthriving team provides more tribe member content with these awesome post collections
Weekly You Are Alive Delegators
https://peakd.com/hive-155221/@youarealive/you-are-alive-weekly-payouts-to-delegators-11
@youarealive needs a lot of resources to operates it's tipping service here are the delegators
Larry is Alive Daily Prize Drawing
https://peakd.com/hive-105809/@lukeisalive/larry-is-alive-daily-prize-drawing-may-9-2022
@lukeisalive shares the latest Larry is Alive daily Prize Drawing


Made in Canva


- @benthomaswwd - Moderator