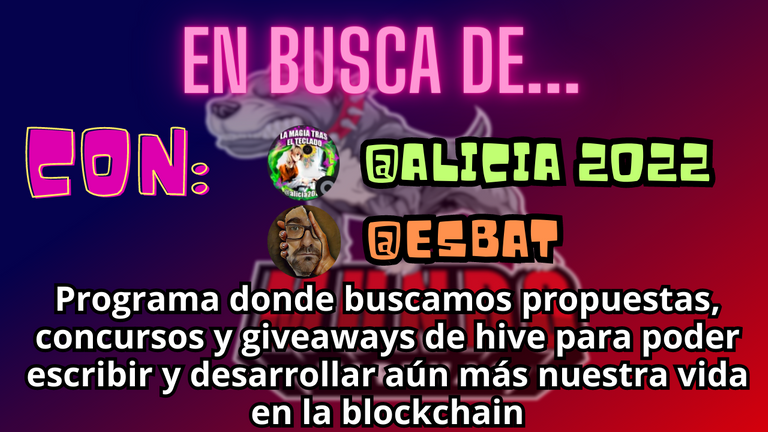 Hola gente. ¿Cómo están?
Hello everyone. How are you?
Hoy les traigo el magnífico día de "En busca de…" en el discord de mundo virtual donde buscamos propuestas, actividades, concursos y mucho más para poder inspirarnos e invitar a la gente a escribir en hive, todas estas propuestas tienen premios financieros aunque sean bajos o altos todos nos dejan dinero, así que no te pierdas la oportunidad de participar.
Today I bring you the magnificent day of "In search of ..." in the virtual world discord where we look for proposals, activities, contests and much more to be able to inspire and invite people to write in hive, all these proposals have financial prizes although they are low or high they all leave us money, so don't miss the opportunity to participate.
---
Todos los que desean participar en estos eventos simplemente pueden hacerlo directamente en el discord de mundo virtual a través de este link:
Those who wish to participate in these events can simply do so directly in the virtual world discord through this link:
Los eventos que actualmente están activos en nuestro discord son:
The events that are currently active in our discord are:
---
Resumen del evento de hoy día martes 16 / 05 / 2023:
Summary of today's event Tuesday 16/05/2023:
Lo primero que hablamos fue sobe una iniciativa de curación te la familia Top Five Family.
The first thing we talked about was an initiative of curation by the Top Five Family.
Esta sería la dinámica que nos marcan para participar.
This would be the dynamics they mark us to participate.
Repito la dinámica y reglas del #TopTres.
I repeat the dynamics and rules of the #TopTres.
•La idea es votar si el contenido vale la pena y es de calidad sin ser copia, si consideras que no es de calidad, con un comentario lo ayudas a mejorar, pues bienvenido su comentario para que pueda mejorar y crecer en la comunidad
•The idea is to vote if the content is worth it and is of quality without being a copy, if you consider that it is not of quality, with a comment you help it to improve, well welcome your comment so that it can improve and grow in the community
•Se realizara a diario y será en el orden alfabético de la lista, si perteneces al chat y no estás en la lista y ya pasamos por el orden de tu nombre tocara esperar la siguiente vuelta.
•It will be done daily and will be in alphabetical order of the list, if you belong to the chat and you are not on the list and we have already gone through the order of your name it will be time to wait for the next turn.
•Se realizara de lunes a viernes, el sábado sin embargo será publicado un resumen de las mejores publicaciones será seleccionada una de todas las publicaciones de los 3 diarios. Domingo será para descansar y alguna otra dinámica del día, Ejemplo: la que lleva el amigo @jmhb85 esa no debe ser la única si salen otras mucho mejor.
•It will be done from Monday to Friday, Saturday however a summary of the best publications will be published, one of all the publications of the 3 daily newspapers will be selected. Sunday will be for rest and some other day dynamics, Example: the one that the friend @jmhb85 carries that should not be the only one if others come out much better.
•Se debe votar por la última publicación activa que tenga ese día a quien le toque estar en el TopTres, o la última que tenga activa, Nota: preferiblemente la del día para que los votos no estén dispersos
•You must vote for the last active publication that has that day to whom it corresponds to be in the TopTres, or the last one that has active, Note: preferably the day's so that the votes are not dispersed
•Es necesario Resteem de esta publicación para que llegue a más usuarios
•It is necessary to Resteem this publication so that it reaches more users
•En el TopTres se colocara usuarios y links de los post que serán apoyados, al mismo tiempo indicare cuales son los TopTres del día siguiente por whatsapp.
•In the TopTres we will place users and links of the posts that will be supported, at the same time I will indicate which are the TopTres of the next day by whatsapp.
•Los miembros que estarán en el TopTres del día siguiente deben comentar la publicación del TopTres de @lanzjoseg indicando, cuál será el post con el que participaran el siguiente día, (Cabe destacar que el post debe llevar la etiqueta #Steemfamilyhi.
•The members who will be in the TopTres of the following day must comment on the publication of the TopTres by @lanzjoseg indicating, which will be the post with which they will participate the following day, (It should be noted that the post must have the hashtag #Steemfamilyhi.
•se repite este proceso a diario de lunes a viernes.
•This process is repeated daily from Monday to Friday.
•Pronto estaremos anunciando nuevas dinámicas para apoyar más al grupo y que crezcamos todos juntos.
•Soon we will be announcing new dynamics to further support the group and that we all grow together.
•Es necesario que en tus post este la mención de nuestra comunidad steemfamilyhi
• It is necessary that in your post there is a mention of our community steemfamilyhi
Este escrito fue tomado del post original de steemit de top3 que ahora se llama top five https://steemit.com/spanish/@lanzjoseg/un-mundo-de-opotunidades-que-esperas-para-unirte-al-toptres-todos-podemos-crecer-juntos-26-de-abril
---
Luego pasamos directo a hablar sobre las metas que nos propone la página https://hivebuzz.me/ que nos dan medallitas por ir cumpliendo las pautas que nos proponen, estas son visibles en la pantalla de peakd en la sección badges.
Then we go straight to talk about the goals proposed by the page https://hivebuzz.me/ that give us medals for complying with the guidelines that they propose, these are visible on the peakd screen in the badges section.
---
Continuamos con el cumpleaños de They Call me Dan impulsado por Aliento.
We continue with the birthday of They Call me Dan powered by Breath.
https://peakd.com/hive-154321/@aliento/initiative-to-celebrate-theycallmedans-birthday-or-vikings-theme
Tipo de publicaciones que puedes hacer:
Type of posts you can do:
Esta iniciativa tiene que ver con la creatividad, pero estos son los tipos de publicaciones que puedes hacer:
This initiative is all about creativity, but these are the types of posts you can do:
•Un dibujo de vikingos. El post tiene que ser algo más que el dibujo. Puede usar AI art, pero asegúrese de citar la herramienta que usó y no intente pasarla como un dibujo original.
•Un video enviando felicitaciones a Dan. Si haces un Cosplay vikingo, eso te dará puntos extra.
•Escribe una historia ficticia de vikingos. NO se permite el texto generado por IA.
•A drawing of Vikings. The post has to be something more than the drawing. You can use AI art, but make sure you cite the tool you used and don't try to pass it off as an original drawing.
•A video sending congratulations to Dan. If you do a Viking Cosplay, that will give you extra points.
•Write a fictional Viking story. AI generated text is NOT allowed.
Normas
Rule
•Publicar en la comunidad de HiveWarriors .
•Usa la etiqueta #hivewarriors en tu publicación.
•Mínimo de 200 palabras, 400 para publicaciones bilingües y al menos 90 segundos para videos.
•Comparta el proceso paso a paso y la imagen de referencia con la fuente de los dibujos.
•Se marcarán el plagio u otros tipos de abuso.
•Opcional pero recomendado: comparta su publicación #Hive en Twitter u otras redes sociales y use los hashtags #Hive y #HiveWarriors .
•Post in the HiveWarriors community.
•Use the hashtag #hivewarriors in your post.
•Minimum of 200 words, 400 for bilingual posts and at least 90 seconds for videos.
•Share the step-by-step process and reference image with the source of the drawings.
•Plagiarism or other types of abuse will be flagged.
•Optional but recommended: Share your #Hive post on Twitter or other social networks and use the hashtags #Hive and #HiveWarriors.
Texto copiado y traducido del post original de la cuenta Aliento.
Text copied and translated from the original post of the Aliento account.
---
Luego de celebrar el cumpleaños decidimos meternos en temas más escabrosos, temas donde hay un poco de sensaciones de terror, y que mejor que hacerlo con "EL EXTRAÑO CONCURSO Nº 25"
After celebrating the birthday we decided to get into more lurid topics, topics where there are a bit of sensations of terror, and what better way to do it than with "THE STRANGE CONTEST Nº 25"
El concurso es sencillo solo deben hacer un relato corto inspirado en esta imagen.
The contest is simple, they just have to make a short story inspired by this image.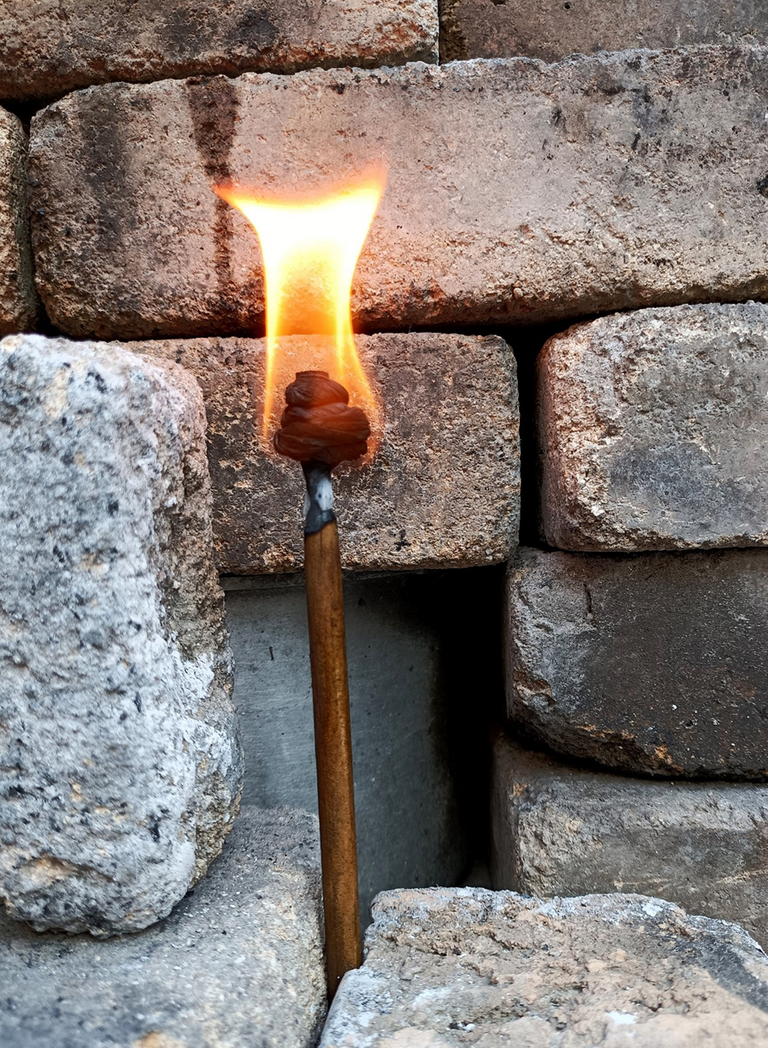 Una vez hayan hecho el post, con cualquier cantidad de palabras y prácticamente libre de ninguna censura más que las obvias que están en hive, debes colar el post en un comentario en este link. Para que seas juzgado por los extraños jurados de hive México.
Once they have made the post, with any number of words and practically free of any censorship other than the obvious ones that are in hive, you must cast the post in a comment at this link. For you to be judged by the strange juries of hive Mexico.
https://peakd.com/hive-147104/@saulos/extrano-concurso-no-25-fuego
---
Luego Esbat nos trajo este post de freewriters aunque poco hablamos de él, es un concurso que tiene votos interesantes y 1hbsi de premio para los mejores tres participantes, la propuesta sus simplemente escribir algo relacionado a esta imagen.
Then Esbat brought us this freewriters post, although we rarely talk about it, it is a contest that has interesting votes and a prize of 1hbsi for the best three participants, the proposal is simply to write something related to this image.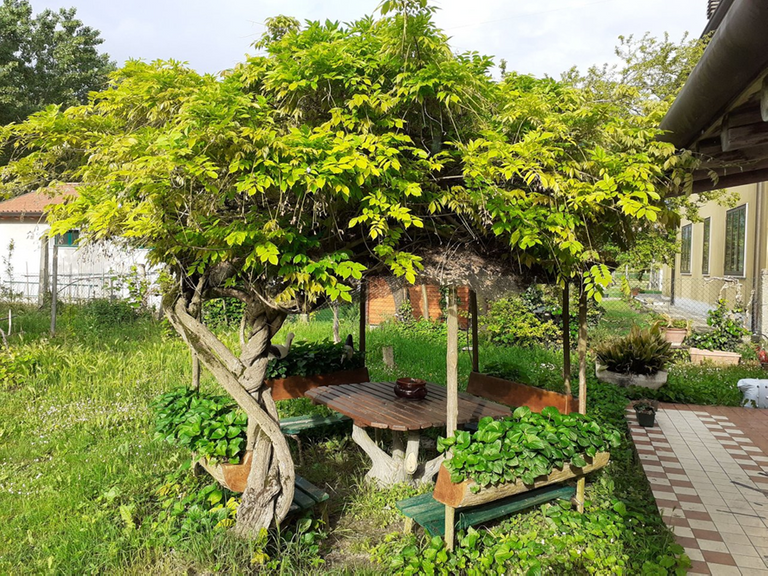 No hay ni mínimo ni máximo de palabras, solo un escrito relacionado y colocar el escrito en este link.
There is neither a minimum nor a maximum of words, only a related writing and place the writing in this link.
https://peakd.com/hive-161155/@freewritehouse/a-picture-is-worth-a-thousand-words-runqyc
Al ser un concurso de una comunidad habla inglesa no olviden colocar su escrito en ese idioma o no serán votados.
As it is a contest for an English-speaking community, do not forget to put your writing in that language or you will not be voted on.
---
Para este concurso solo quedan 2 días pero casualmente voy a utilizar este post para participar en él.
There are only 2 days left for this contest but by chance I am going to use this post to participate in it.
Hispa pro nos pide conocer y entender los post ccc de colecciones de post y hacer con esto una reseña o resumen de post que puedan servir para los novatos en hive. Y que mejor idea que utilizar este post donde estoy nombrando concursos y eventos donde la gente puede participar por primera vez en hive.
Hispa pro asks us to know and understand the post ccc of post collections and to make with this a post review or summary that can be useful for hive newbies. And what better idea than to use this post where I am naming contests and events where people can participate for the first time in hive.
Para participar debes seguir las siguientes consignas:
To participate you must follow the following guidelines:
•Recuerda que es indiferente que autores eliges a la hora de organizar tu colección.
•Te sugerimos publicar tu colección en la comunidad C/Curated Collections.
•La distribución de los premios se realizara 15 días después de finalizado el concurso.
•Sigue las cuentas en twitter de @hispapro, @ecoinstant y @PeakDcom.
•Etiquétanos cuando compartas en las redes.
•Utiliza la etiqueta #hispacontest
•La selección estará a cargo de @ecoinstant y @yonnathang.
•Se evaluarán las colecciones basándose en su calidad, creatividad y utilidad.
•Aprovecha para contarnos sobre tu colección, porque la consideras necesaria, tiene alguna relación con tu experiencia personal.
• Remember that it is indifferent which authors you choose when organizing your collection.
• We suggest you publish your collection in the C/Curated Collections community.
• The distribution of the prizes will take place 15 days after the end of the contest.
• Follow the @hispapro, @ecoinstant and @PeakDcom twitter accounts.
• Tag us when you share on the networks.
• Use the tag #hispacontest
• The selection will be in charge of @ecoinstant and @yonnathang.
• Collections will be judged based on their quality, creativity, and usefulness.
• Take the opportunity to tell us about your collection, because you consider it necessary, it is related to your personal experience.
Texto original tomado del post https://peakd.com/hive-133872/@hispapro/solo-quedan-3-dias-para-unirse-al-emocionante-concurso-de-curated-content-collections
---
HIVE-CON al fin ha revivido para todos los amantes de los comics, anime y mundos de fantasía que pudieran entrar en cualquier tipo de convención para nerds, frikis u otakus, pues hay una iniciativa para todos nosotros.
HIVE-CON has finally revived for all lovers of comics, anime and fantasy worlds who could enter any type of convention for nerds, geeks or otakus, because there is an initiative for all of us.
https://peakd.com/hive-128240/@helloisalbani/iniciativa-mi-superheroe-o-villano-favorito-or-iniciative-my-favourite-superhero-or-villain
En esta iniciativa solo debes contarnos sobre tu súper villano y súper héroe favorito, sus características, apariciones, comics o manga, que habilidades tienen, todo lo que sepas sobre él/ella básicamente.
In this initiative you only have to tell us about your favorite super villain and super hero, their characteristics, appearances, comics or manga, what abilities they have, basically everything you know about him/her.
¡No olviden cumplir con las reglas!
Don't forget to abide by the rules!
• Usa como primera etiqueta #hivecon
• Posts escritos de mínimo 500 palabras, en caso de videos, mínimo 300 palabras.
• Tienes 30 días para compartir tu participación en nuestra comunidad "Hive-con"
• Invita al menos a dos amigos a participar.
• Copia el link de tu publicación en los comentarios de este post.
• Comparte tu post en Twitter con el hashtag #HiveCon y #HiveConSuper. En caso de usar Leo Threads, no olvides los hashtags #spanish y #HiveCon.
• Use as the first tag #hivecon
• Written posts of at least 500 words, in the case of videos, at least 300 words.
• You have 30 days to share your participation in our "Hive-con" community.
• Invite at least two friends to participate.
• Copy the link of your publication in the comments of this post.
• Share your post on Twitter using the hashtag #HiveCon and #HiveConSuper. In case you use Leo Threads, don't forget the hashtags #spanish and #HiveCon.
¿Bastante fácil no lo crees?
Pretty easy don't you think?
Este es el post de donde tomé el texto anterior y lógicamente donde deben dejar el comentario con su entrada al concurso.
This is the post from where I took the previous text and logically where they should leave the comment with their entry to the contest.
https://peakd.com/hive-128240/@helloisalbani/iniciativa-mi-superheroe-o-villano-favorito-or-iniciative-my-favourite-superhero-or-villain
---
Bueno de este concurso sí que hablamos muy poco porque es un concurso súper mega difícil de realizar, las reglas para mí son bastante violentas para la gente sin seguidores en redes sociales pero de todas maneras se los comparto.
Well, we do talk very little about this contest because it is a super mega difficult contest to carry out, the rules for me are quite violent for people without followers on social networks but I share them anyway.
https://ecency.com/hive-172958/@hiveredcarpet/bmwjezwg
Semana N°2 (Del 15 al 22 de mayo)
Week N°2 (From May 15 to 22)
• Realiza un video corto y subtitulado al inglés en twitter, comentando qué es liketu y por qué te gusta utilizarlo.
• Incluye un copy llamativo que haga que las personas quieran ver tu video, y a su vez, invítalas a apoyarte dejando un like y haciendo RT.
• Etiqueta en el tweet a @liketuofficial y @hivesredcarpet
• Utiliza las etiquetas #liketu y #hive
• Comparte el link de tu tweet respondiéndote a ti mismo en el comentario que dejaste la semana anterior con tu participación en el primer reto.
• Make a short video subtitled in English on Twitter, commenting on what liketu is and why you like to use it.
• Include an eye-catching copy that makes people want to see your video, and in turn, invite them to support you by leaving a like and doing RT.
• Tag @liketuofficial and @hivesredcarpet in the tweet
• Use the hashtags #liketu and #hive
• Share the link of your tweet answering yourself in the comment you left the week before with your participation in the first challenge.
---
Un concurso de pocas palabras, básicamente en D.buzz podremos hacer publicaciones pero con un límite de máximo 288 caracteres esto conjunto a imágenes y a un título deben crear una historia sobre un zap (teletransporte) y serán súper valorados en la cadena de bloques por d.buzz por lo que, es recomendable participar.
A contest of few words, basically in D.buzz we will be able to make publications but with a maximum limit of 288 characters this together with images and a title must create a story about a zap (teleportation) and they will be super valued in the chain of blocks by d. .buzz so it is recommended to participate.
https://peakd.com/hive-161155/@dbuzz/the-dbuzz-zap-fiction-short-story-weekly-challenge-week-4
Les recuerdo que como d.buzz es una comunidad de habla inglesa la historia debe ser en ese idioma. Tengan cuidado con eso.
I remind you that since d.buzz is an English-speaking community, the story must be in that language. Be careful with that.
---
Luego de eso básicamente con ganas de que lo hubiesen puesto justo al comenzar introduje mi bocadillo patrocinando el concurso semanal de top five family donde escribimos un texto de mínimo 250 palabras relacionadas a una imagen que ellos nos colocan. En este concurso debemos re bloguear la publicación, tengan eso en cuenta. También hay que colocar el link de la publicación y usar unos tags determinados por lo que les coloco aquí el texto que ellos colocan como reglas.
After that, basically hoping that they would have put it right at the beginning, I introduced my sandwich by sponsoring the weekly top five family contest where we write a text of at least 250 words related to an image that they place for us. In this contest we must reblog the post, keep that in mind. You also have to place the link of the publication and use certain tags, so I put here the text that they place as rules.
Reglas del Concurso:
Contest Rules:
• Debes REblogear de esta publicación, de esta manera más personas podrán participar, para saber si das REblogear visitare tu blog, es una condición para ser elegido dentro de los participantes.
• Realizar un post. Debes utilizar la imagen del concurso y con el siguiente título, Mi entrada al concurso TopFiveFamily Observa Piensa Escribe.
• Con un mínimo de 250 palabras, no se incluye en el conteo, el saludo, las felicitaciones y el nombramiento del concurso, tampoco se incluye las despedidas, para el conteo de las 250 palabras solamente el contexto de lo que interpreto en la imagen, de no cumplir con esta regla además de las otras, no se tomara en cuenta su publicación para el sorteo.
• Dentro de tu publicación realizar mención a nuestro concurso, dejando indicado enlace a este concurso, para que pueda llegar a más personas, debes usar la etiqueta #topfivefamily #mundovirtual y/o #hueso y dejar el enlace en un comentario.
• Una sola entrada por participante.
• La entrada al concurso será hasta las 10 de la noche del día viernes 19 de mayo.
• Seguir la cuenta @topfivefamily
• NO DEBES VOTAR TU PROPIO COMENTARIO O SERÁS DESCALIFICADO, sin embargo, habrá una sorpresa de votación en los comentarios.
• You must REblog this publication, in this way more people will be able to participate, to know if you REblog I will visit your blog, it is a condition to be chosen among the participants.
• Make a post. You must use the image of the contest and with the following title, My entry to the TopFiveFamily contest Observe Think Write.
• With a minimum of 250 words, the count, the greeting, the congratulations and the appointment of the contest are not included, neither are the farewells included, for the 250 word count only the context of what I interpret in the image, If you do not comply with this rule in addition to the others, your publication will not be taken into account for the draw.
• Within your publication, mention our contest, indicating a link to this contest, so that it can reach more people, you must use the hashtag #topfivefamily #mundovirtual and/or #hueso and leave the link in a comment.
• One entry per participant.
• Entry to the contest will be until 10 pm on Friday, May 19.
• Follow the account @topfivefamily
• YOU MUST NOT VOTE ON YOUR OWN COMMENT OR YOU WILL BE DISQUALIFIED, however, there will be a surprise voting in the comments.
El texto fue tomado de este post donde si quieres participar debes comentar con tu entrada.
The text was taken from this post where if you want to participate you must comment with your entry.
https://peakd.com/hive-192096/@topfivefamily/anunciando-los-ganadores-del-concurso-0b04ffb16f539
---
Bien ya finalizando hablamos sobre un concurso de amantes del café (donde por problemas de salud no puedo participar) este concurso nos pide una cantidad máxima de palabras entre 350 y 1000 (y si, como acaban de leer, no fue un error, el post dice cantidad máxima de palabras).
Well, now that we are finishing, we are talking about a contest for coffee lovers (where due to health problems I cannot participate) this contest asks us for a maximum number of words between 350 and 1000 (and if, as you have just read, it was not an error, the post says maximum number of words).
Estos son los lineamientos que nos presenta el post para participar.
These are the guidelines that the post presents to us to participate.
Esta semana, se trata de café diurno versus café nocturno.
This week, it's all about daytime coffee versus nighttime coffee.
Lo que hace que este aviso sea diferente de todos los demás avisos/eventos organizados por la comunidad es que requiere historias "reales" e imágenes personales.
What makes this ad different from all other community organized ad/events is that it requires "true" stories and personal images.
Por lo tanto, no hay fotos de origen, y si se presenta alguna foto de inteligencia artificial (IA) para este aviso, su publicación se silenciará sin previo aviso.
So there are no source photos, and if any artificial intelligence (AI) photos are submitted for this notice, their post will be muted without notice.
Todos los jueves a las 00:00 UTC aparece un mensaje nuevo, sin embargo, puedes publicar en cualquiera de los temas anteriores de #TheCoffeeShopPrompt en cualquier momento. Solo asegúrese de indicar qué aviso y use la etiqueta #tcsp apropiadamente.
A new message appears every Thursday at 00:00 UTC, however you can post to any of the above #TheCoffeeShopPrompt threads at any time. Just be sure to indicate which prompt and use the #tcsp tag appropriately.
REGLAS PARA SEGUIR
RULES TO FOLLOW
Contenido original, SOLO en inglés (sin ficción)
Conteo de palabras de 350 - 1000 palabras MAX.
La primera etiqueta DEBE ser #tcsp
Publicar directamente en la comunidad de Cinnamon Cup Coffee .
Adhiérete a las reglas generales de la comunidad.
Original content, ONLY in English (non-fiction)
Word count of 350 - 1000 words MAX.
The first tag MUST be #tcsp
Post directly to the Cinnamon Cup Coffee community.
Adhere to the general rules of the community.
---
Ya por último se anunció el ganador del concurso de nuestro propio servidor "presenta a tu mascota". Y el ganador por 1000 tokens Hueso, un Pack General del Juego Big Dog Bone, 1000 tokens stardom y 5 wax fue….
Finally, the winner of the contest on our own server "present your pet" was announced. And the winner for 1000 Bone tokens, a Big Dog Bone Game General Pack, 1000 stardom tokens and 5 wax was….
@juansitosaiyayin mis más profundas felicitaciones amigo mío. Y te supero agradezco por participar y seguir promulgando a nuestra comunidad para que crezcamos juntos cada día más.
@juansitosaiyayin my deepest congratulations my friend. And I thank you for participating and continuing to promote our community so that we grow together more every day.