Hi all 👋🏻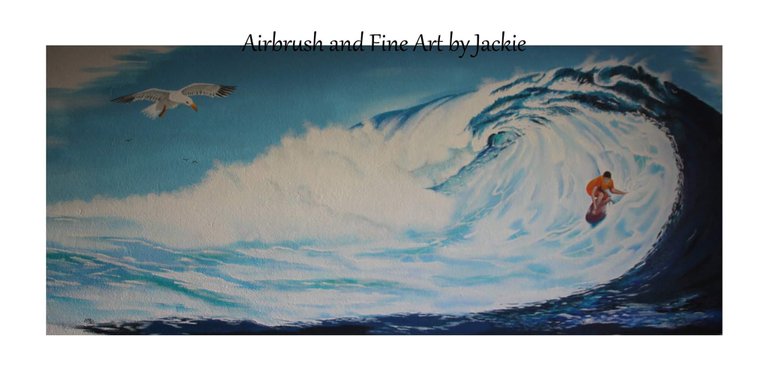 I want to share today with you, one of the murals I #painted on the walls of a villa in Arenas, Málaga Province ~ Spain 🇪🇸 😊 this time I show you a #wave and a #surfer accompanied by some #seagulls. This was created for the client on his request, they use the villa as a holiday home in the summer month. I could stay there while I was painting many murals 😉🤓😎🎨
This mural was painted in one of the 4 bedrooms of the villa and THE SIZE OF THE PAINTING IS 3,5 to 4 METERS.
Today's selection will be of 9 photographs that are taken with my old iPhone. 😎 edited a few years ago in photoshop. (Cropped and I added text)
I started this mural in January 2017, sadly… I only have a few photos from it. Luckily these do include a few work in progress captures 😉😎 ( #SBS ) step by steps…
‼️Other murals I painted in this villa you find here:
Night Scene Mural I painted inside a villa in Spain, step by step/ SBS
And
"Tree of Life" PART 2 ~ large Mural I painted at a Villa in Spain, VIDEO plus step by step (65 photos)
Do have a look if you haven't seen more of my artworks 😉🥰
Let me show you the wave in the bedroom now and some of the steps how I created this #wallpainting/ #mural:

Here you see that I mapped out the form of the wave 🌊 this mural is done with traditional brushes and acrylic paints. 🎨😎
The start of the sky. Do note… photos are deformed due to the length of the wall in the bedroom when I take the photo at an angle.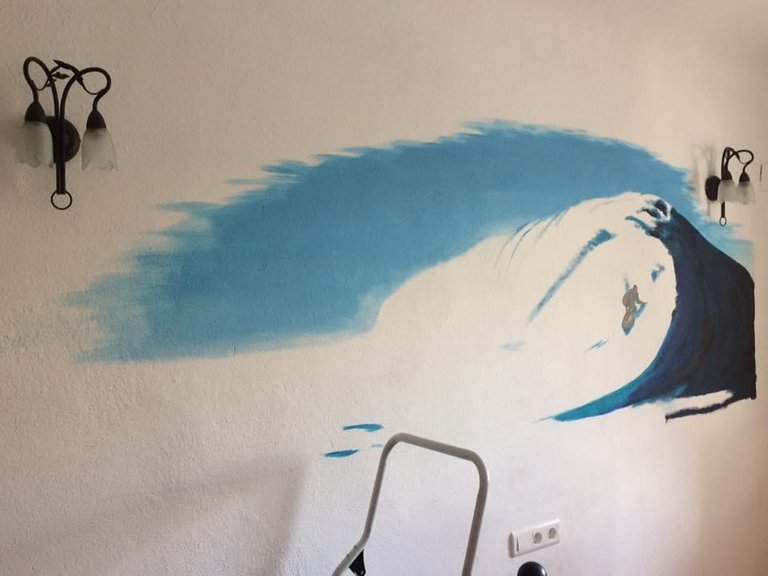 More progress was made on building up the wave.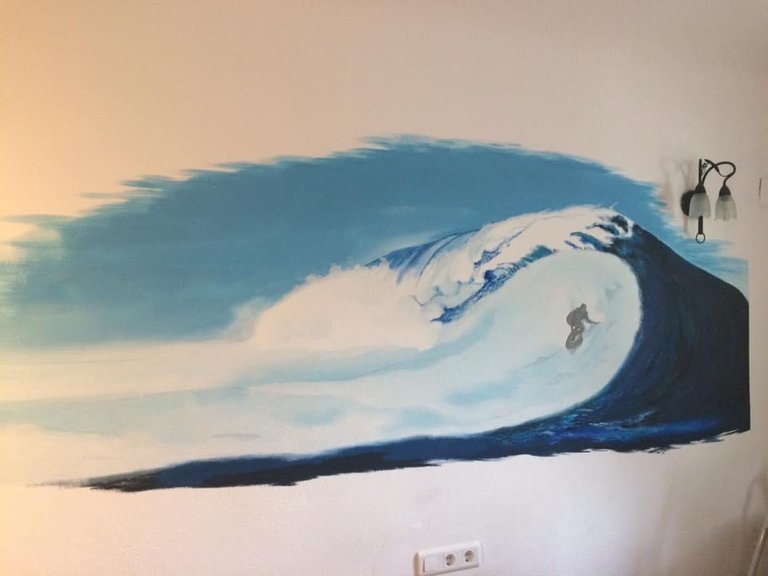 Details are added…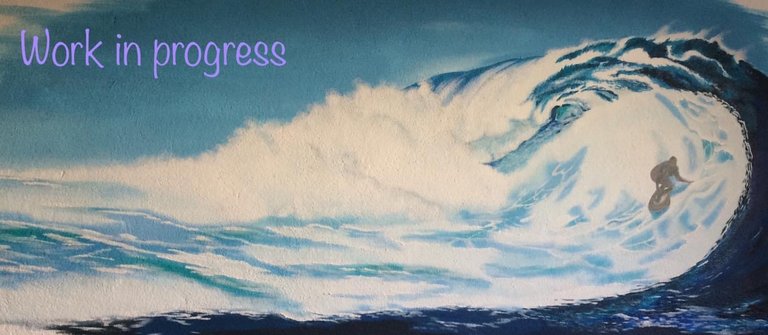 Here you can see from a side angle that I texturised the waves… the foam parts you can feel as they are really thickly painted on the wall. 😎🎨 So it's really nice when you go over the wall with a flat hand 🖐 😇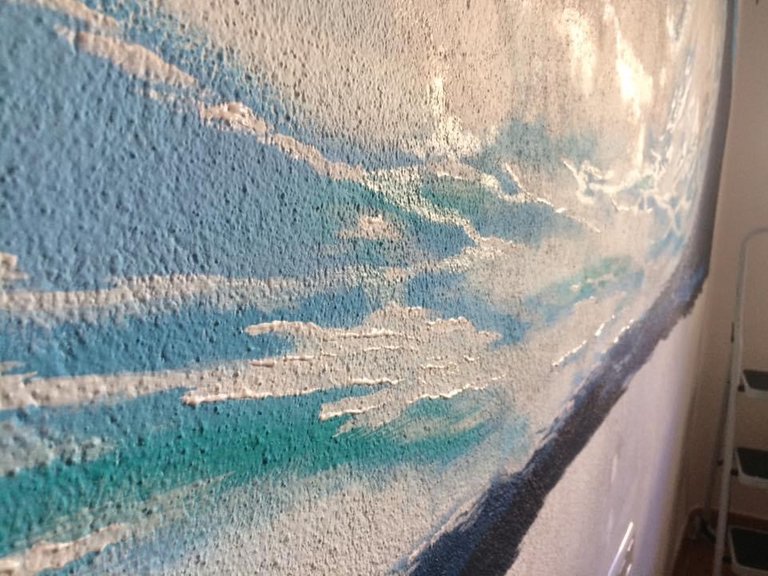 I added colours to the surfer 🏄🏻‍♀️

And the finished result:


I did crop the full painting here to show on-line a few years ago in my own social media channels.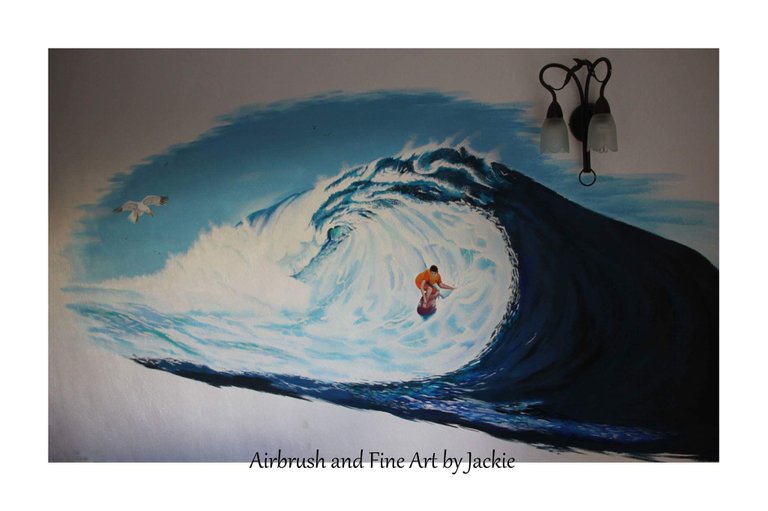 Taken from a different angle… it is 4 meter long.

From the other angle, here you see the seagull better 😎😊🎨🌊🏄🏻‍♀️
Hope you like it 🥰
… And that's all for today, join me in my next posts for more #adventures, #stories and #photographs 😎👋🏻 Even some #artworks once in a while will come by 🎨
Thank you so much for looking, and reading. And if you liked my post, an upvote or re-blog is always welcome 🙏🏻
Have a great day all 😎👋🏻
Grtz Jackie
The divider is Created by SilverFish / @ mondoshawan
Unless stated otherwise: All art and photos used in my posts are taken, created and owned by me. If you wish to use any of my photographs, please contact me first. As I have used some commercially myself. We don't want that you or somebody else gets into trouble 😉 So please don't use them without my consent.
🖼 My PRINTSHOP: for the purchase of all kind of prints in many sizes from my Artworks 🎨 and Photography 📸 Which come on different objects too. Have a look in My Prints Shop!