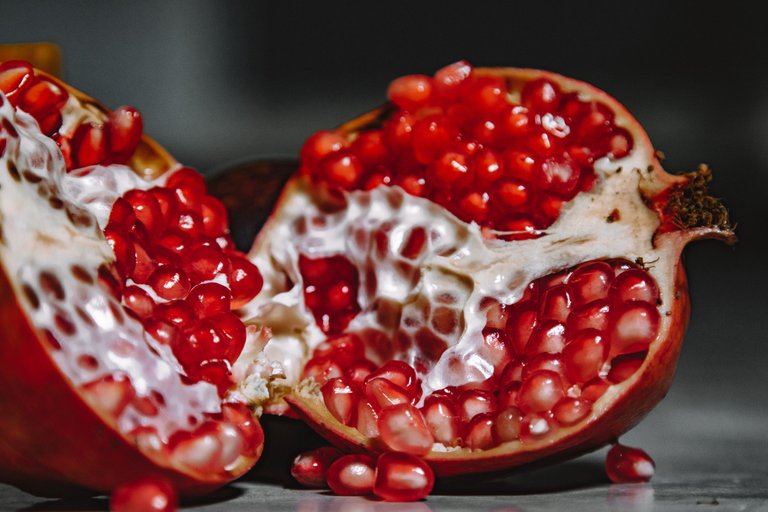 Pomegranate fruit: benefits and properties / Fruta granada propiedades y beneficios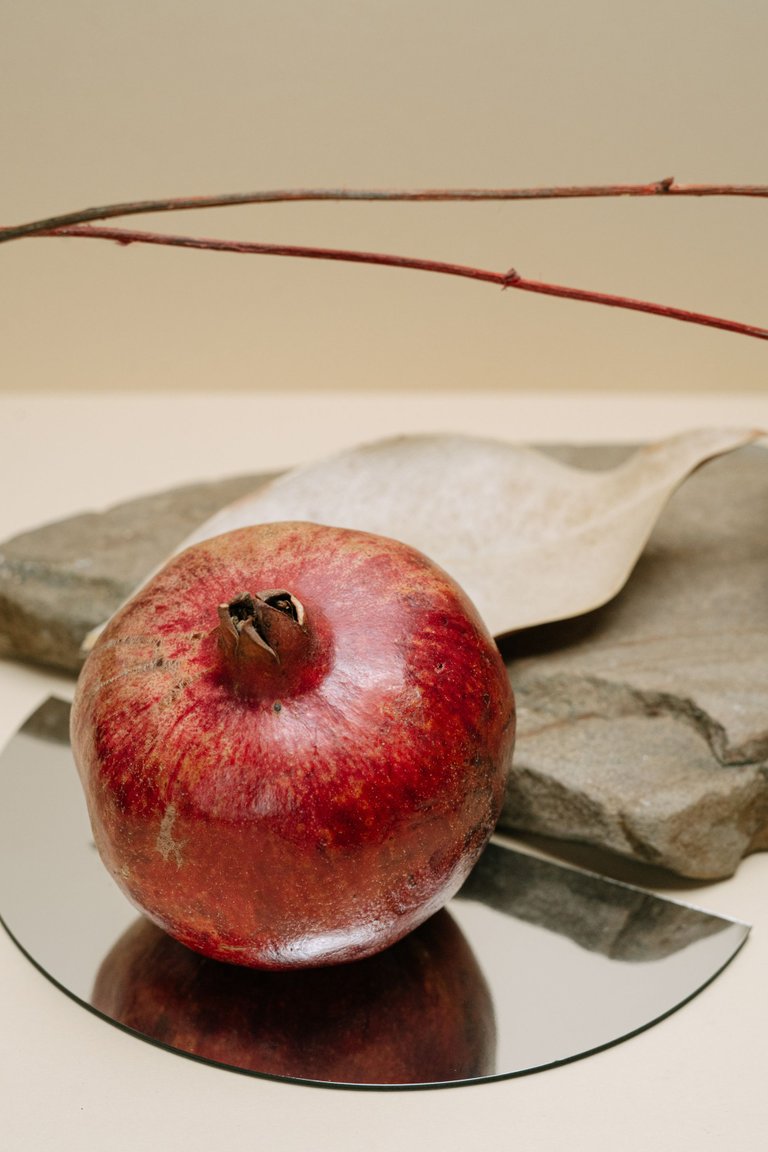 FUENTE

Hello reader friends, today I bring you a post regarding a fruit that is widely consumed in the month of August and September in Mexico. It is the pomegranate, pomagranada or granadilla depending on how they say it in your country.
This is such a special fruit, it is said because its beneficial contributions to health are many, among the most outstanding according to research is that it is an antioxidant, it is rich in vitamin C, E and B6, and in minerals such as potassium, copper and above all. all iron. It is used both in gastronomy and in traditional medicine to prevent prostate cancer, anti-inflammatory, digestive, etc.
If you want to know more about the benefits, I invite you to read the following link.
Health benefits of pomegranate


Hola amigos lectores hoy les traigo un post referente a una fruta muy consumida en el mes de agosto y septiembre en México. Se trata de la granada, pomagranada o granadilla dependiendo cómo le digan en tu país.

Esta es una fruta tan especial se le dice porque sus aportes beneficiosos para la salud son muchos, entre los más destacados según investigaciones es que es un antioxidante, es rico en vitamina C, E y B6, y en minerales cómo potasio, cobre y sobre todo, hierro. Es utilizada tanto en la gastronomía y en la medicina tradicional para la previene del cancer de próstata, antiinflamatorio, digestivo etc.

Si deseas saber mas a profundidad los beneficios te invito leer el siguiente enlace.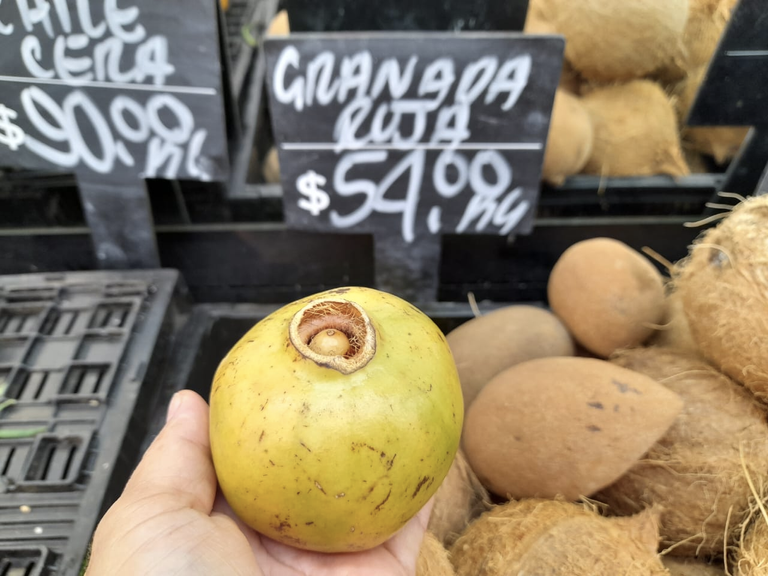 Autor
In this early week of August, I went to the supermarket and I could already notice the sale of pomegranates in the fruit and vegetable section.
The kilo price was 54 Mexican pesos.
En esta semana principio de agosto, me acerque al supermercado y pude notar ya la venta de granadas en la sección de frutas y verduras.

El precio kilo estaba en 54 pesos mexicanos.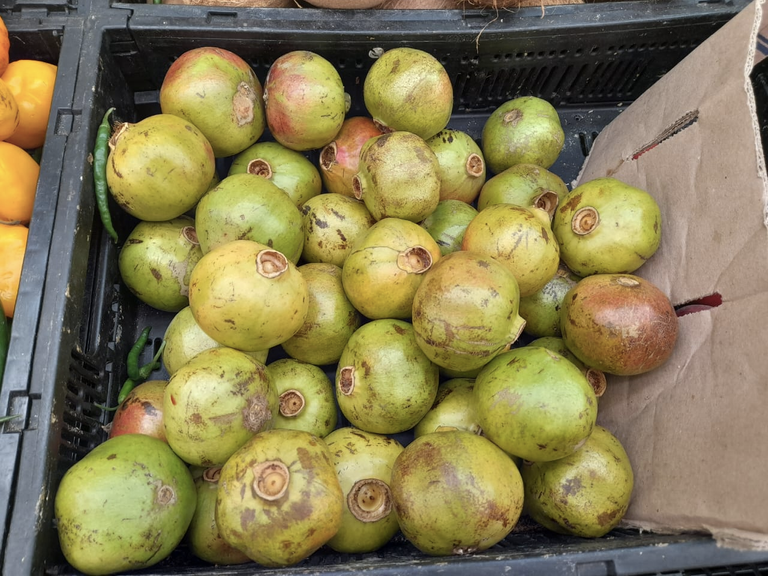 Autor
Note that they cut the crown that usually develops in the fruit. I imagine that it is to prevent them from being mistreated during transportation.
According to historians, this fruit came to Mexico brought by Spanish missionaries, but is originally from Iran, Persia and the Himalayas.
It is widely used in Mexican gastronomy, in the month of September since a traditional dish called chiles de nogal is made, one of the most recognized dishes in this season.
This fruit is usually harvested in Mexico commercially in Guanajuato and Hidalgo. but globally this china as one of the leading producers.

Note que le cortan la corona que suele desarrollarse en la fruta.Me imagino que es para evitar que se maltraten durante el traslado.

Esta fruta según los historiadores comentan que llegó a México traída por misioneros españoles, pero que es originaria de Irán, Persia y el Himalaya.

Es muy utilizada en la gastronomía mexicana, en el mes de septiembre ya que se elabora un platillo tradicional llamado chiles de nogal uno de los platillos mas reconocidos en esta temporada.

Esta fruta suele ser cosechada en México de manera comercial en Guanajuato e Hidalgo. pero a nivel mundial esta china como uno de los primeros productores.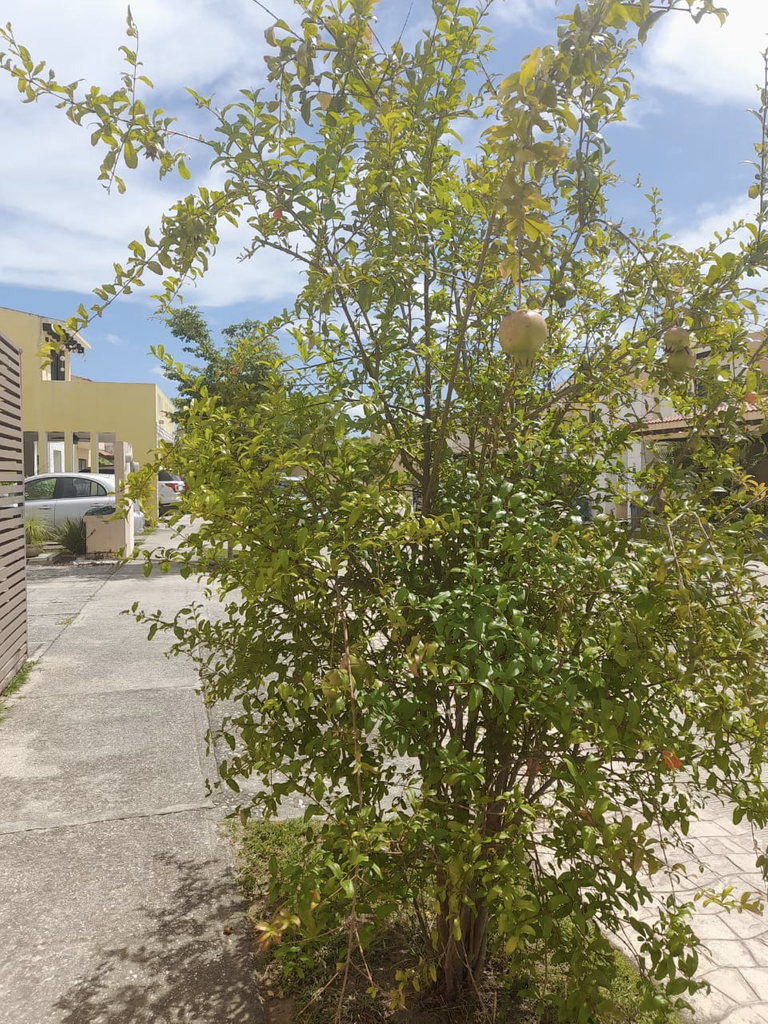 Autor
The pomegranate tree can measure from 3 to 6 meters, in some homes they can be seen in gardens, my neighbor planted one in the common area and it is full of many flowers and pomegranates.

El árbol de granado puede medir de 3 aa 6 metros, en algunos hogares se pueden ver en jardines, mi vecino sembró uno en el área común y esta lleno de muchas flores y granadas.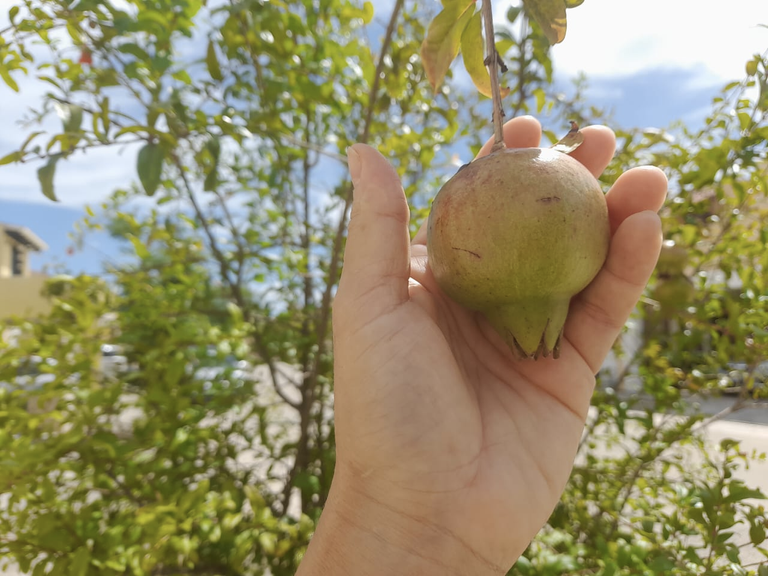 Autor
Pomegranate on the tree.
Granada en el árbol.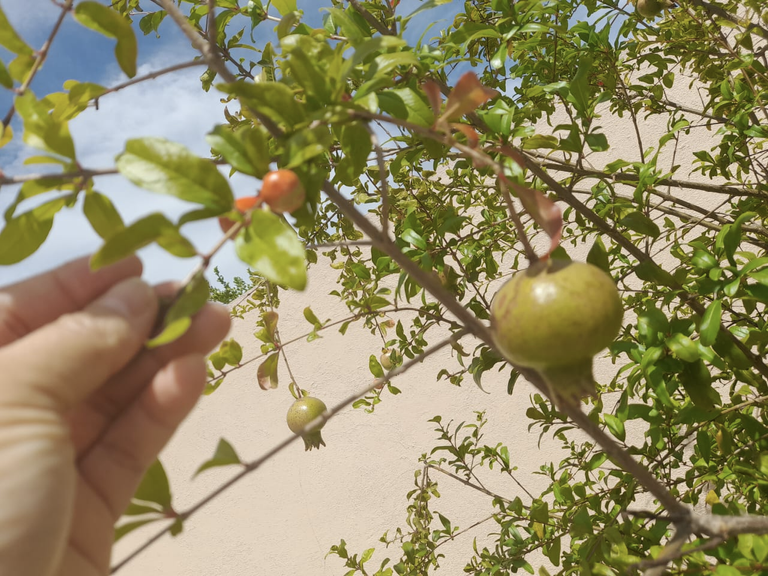 Autor
Pomegranate flower.
Its fruits are still small, but they adorn the silver so pretty that it is impossible not to stop and touch them.

Flor del granado.Sus frutos estan aún chicos, pero adornan la plata tan linda que es imposible no detenerse y tocarlos.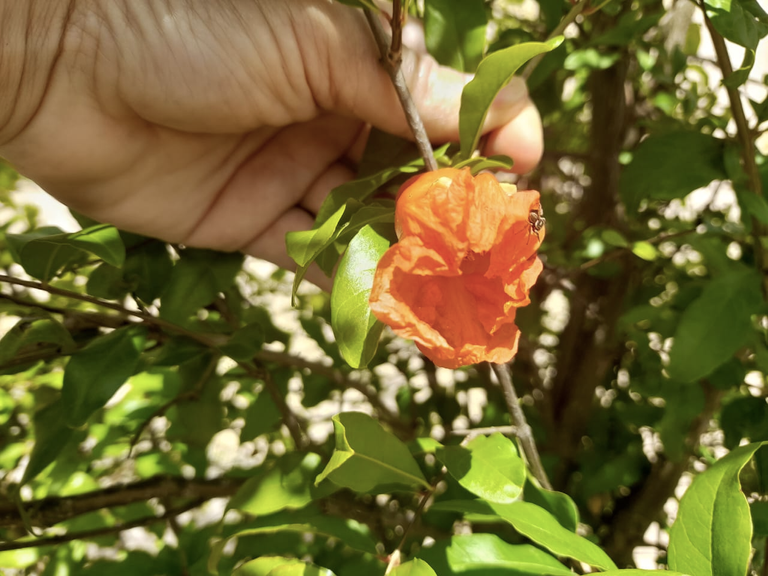 Autor
En cuanto a sus flores estas tienen forma de campana y son de color naranja, sus flores suelen ser visitadas por abejas.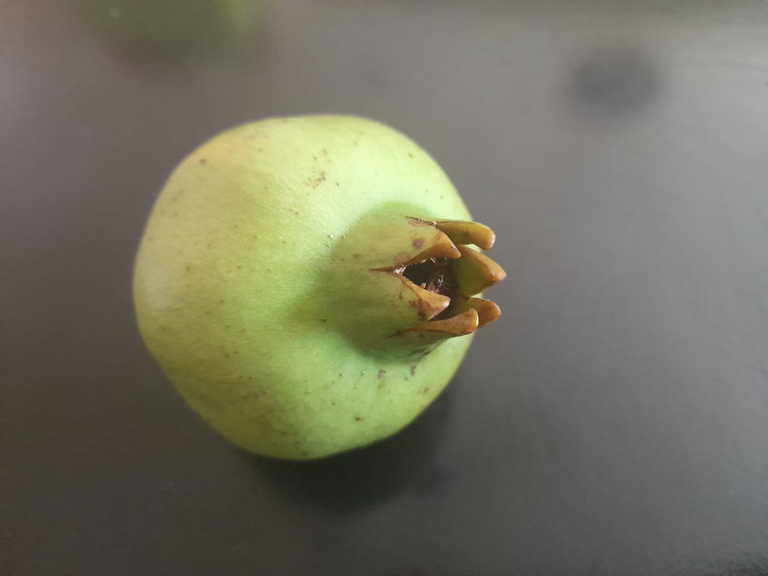 Autor
Pomegranate still green.
Granada aun verde.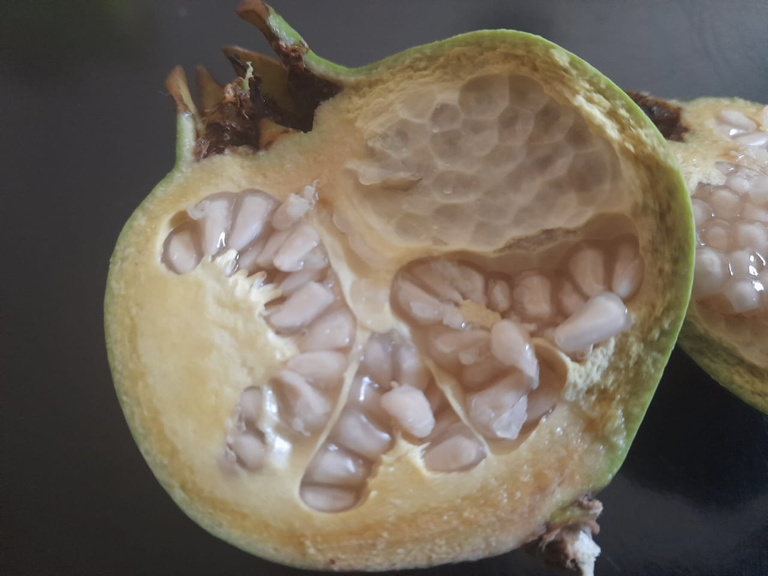 Autor
Green pomegranate, image of what it looks like inside.
I recommend you to buy the red pomegranates since the green ones may not be ripe and you will not be able to enjoy their pleasant flavor.

Granada verde, imagen de cómo se ve por dentro.

Te recomiendo comprar las granadas de color rojas ya que de color verde pueden no estar maduras y no podrás disfrutar de su agradable sabor.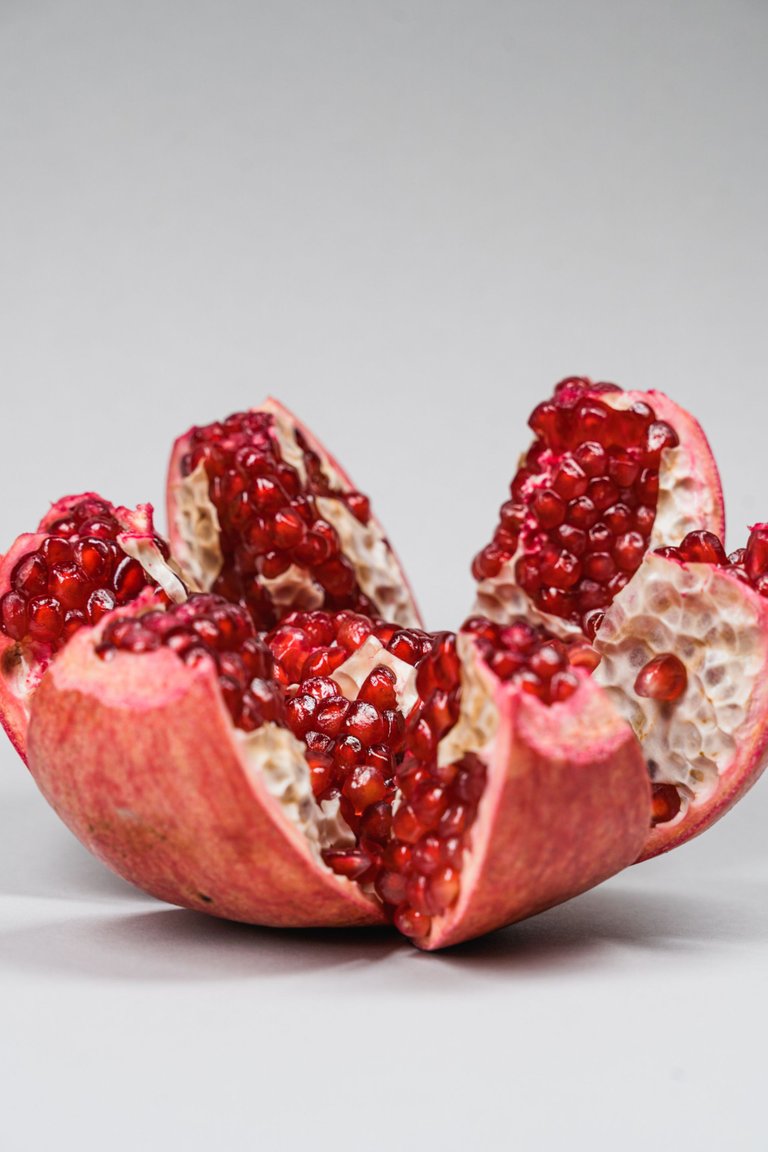 Fuente
When the pomegranate is ripe it has a reddish color on the outside.
It is advisable to chop it with a knife because its shell is hard and remove its seeds with a spoon.
Inside the fruit we find many grains filled with reddish, juicy pulp, with a white seed.
This fruit is called the ruby ​​of fruits because of the strong color of the pulp.
Its seeds are juicy and have a very pleasant flavor.

La granada cuando ya esta madura tiene un color rojizo por fuera.

Es recomendable picarla con un cuchillo porque su cascara es dura y sustraer sus semillas con una cuchara.

En el interior de la fruta nos encontramos con muchos granos rellenos de pulpa rojiza, jugosa, con una semilla blanca.

A esta fruta se le llama el ruby de las frutas por ese color tan fuerte que tiene la pulpa.

Sus semillas son jugosas y de muy agradable sabor.
Dear reader, thank you for reading this post which is 100% original, the writing, content and photos are my own, which were taken with the Samsung A21s Smartphone camera. Translation made with DeepL and make the Text Separators in canva.
Apreciado lector gracias por leer este post el cual es 100% original, la redacción, contenido y algunas fotos son de pexels otras de mi autoría las cuales fueron tomadas con la cámara del Smartphone Samsung A21s. Traducción realizada con DeepL y realice los Separadores de texto en canva.