Friday, 3rd of March 2023 [52]
Hello Fungi Lovers and #FungiFriday community with its amazing creator @ewkaw ! I know it looks like I've abandoned you all, but that's not the case. I'm slowly running out of pictures of my beloved mushrooms in both of my phones and I also had a productivity block in the past couple weeks.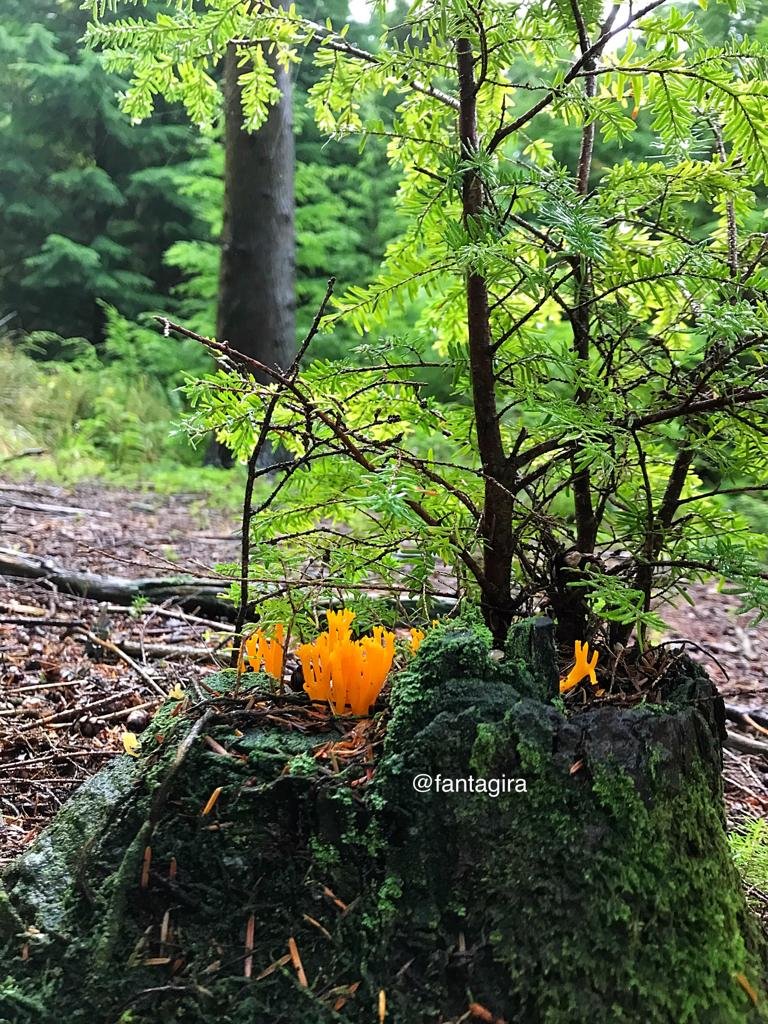 This week's solar storm seem to have broken through my #innerblocks and hopefully I am on my way to recovery ❤️‍🩹
That said, today I picked just one type of mushrooms for you. The coral mushrooms, one of the most fascinating fungi I came across in my nearby forest.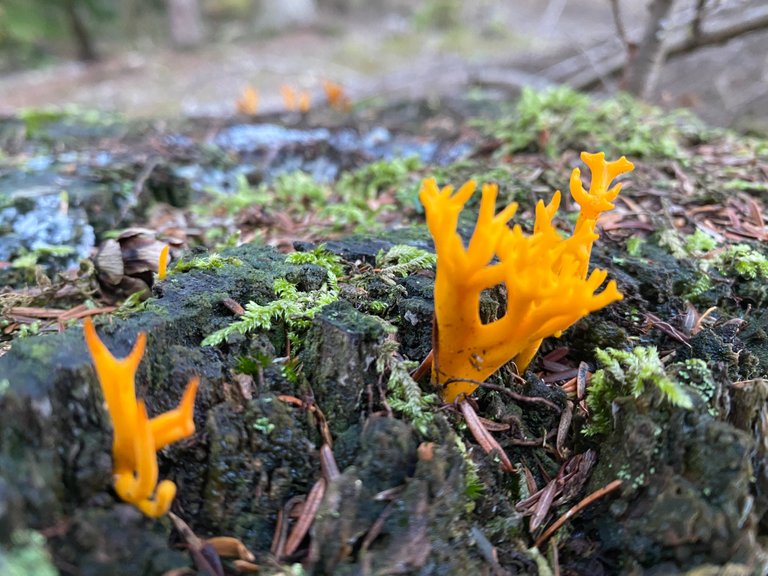 The orange variety is really what tickles my fancy, as I can see them from far far away, but there are also white, black and many others that I haven't come across... yet.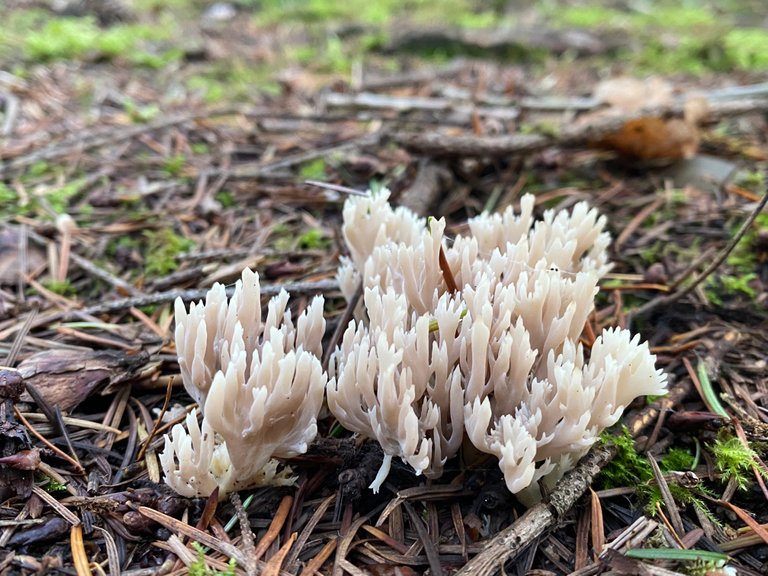 Most of my coral mushrooms pictures that I present here are from my old phone and the times a few years back when my ex and I started exploring the nearby Lordswoods forests. These were the covid days, when I was off work and free to roam around.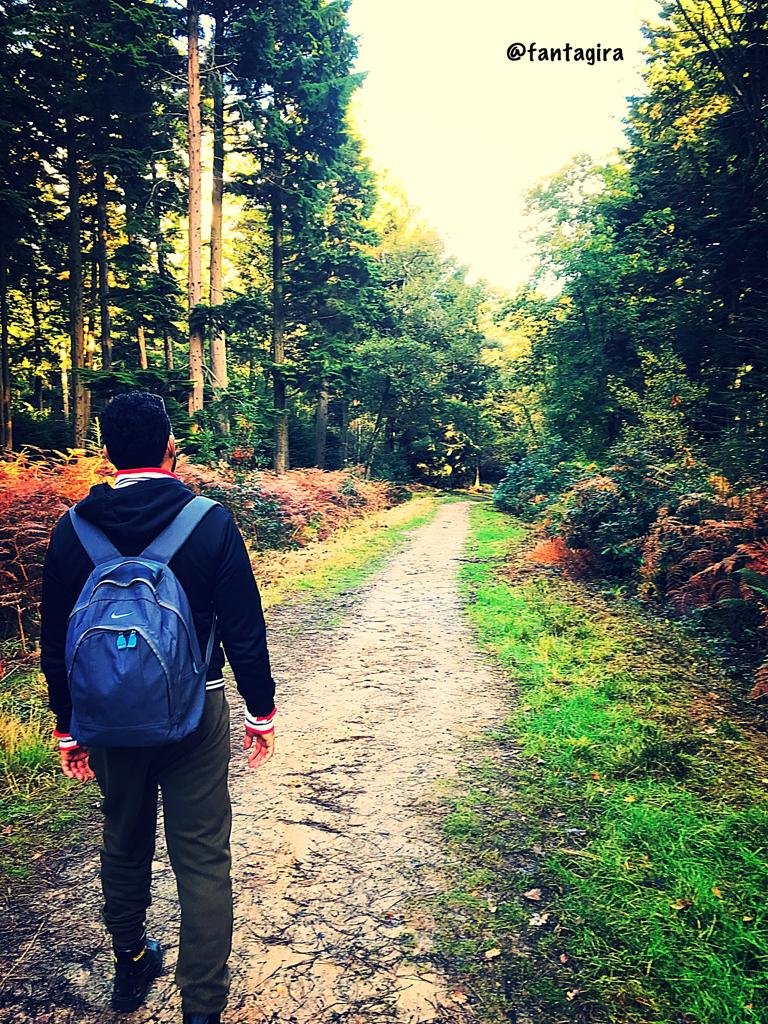 It coincided with me joinging the firts of my alternative social media platforms called Tsu. Finding the cute, bright coloured mushrooms during my walks was like winning the lottery. They made for pretty interesting pictures. The white variety is not too shabby either. They're just not as easy to spot from a distance.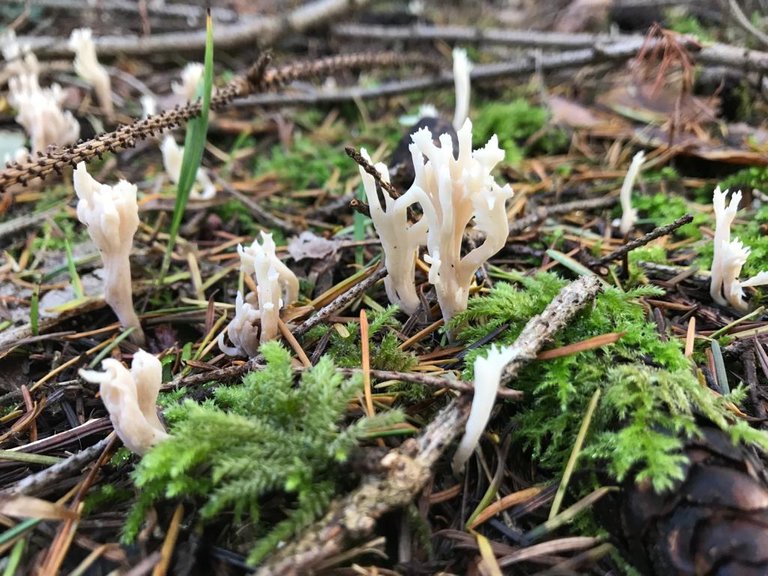 The orange variety would pick the most picturescque surroundings though. Often on the half rotten tree trunks, surrounded by moss and other tiny mushrooms.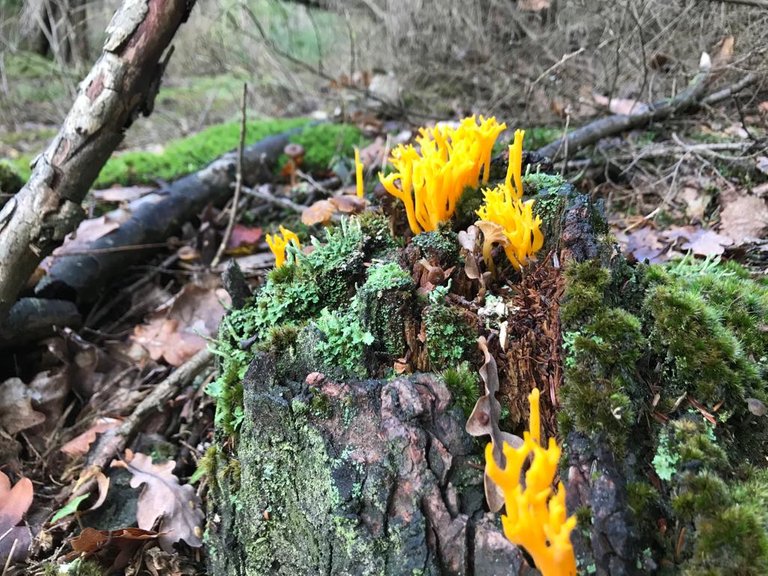 I was sold from the very first time I looked closer at these fascinating creatures. I'm sure I've said it before, but just look at them. It's like having a coral reef at a walking distance from my house.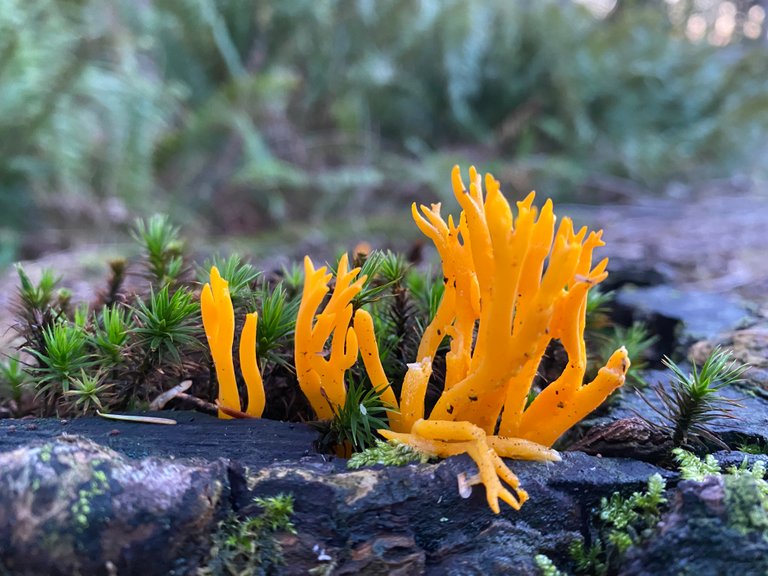 They seem so fragile, yet they're #aliveandthriving in the middle of the of the forest, perfectly 'blending' with other creatures.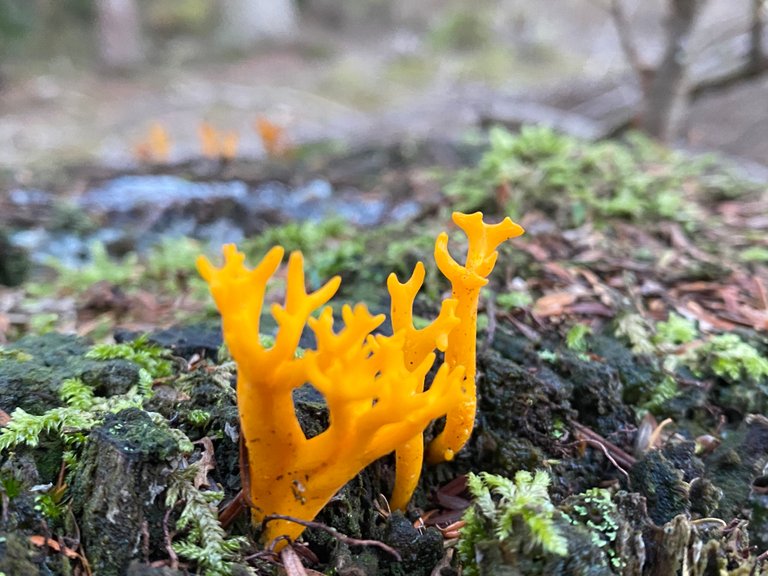 Although blending might not be a good selection of word for it, as the striking colour makes them stand out, making surroudings even more alive.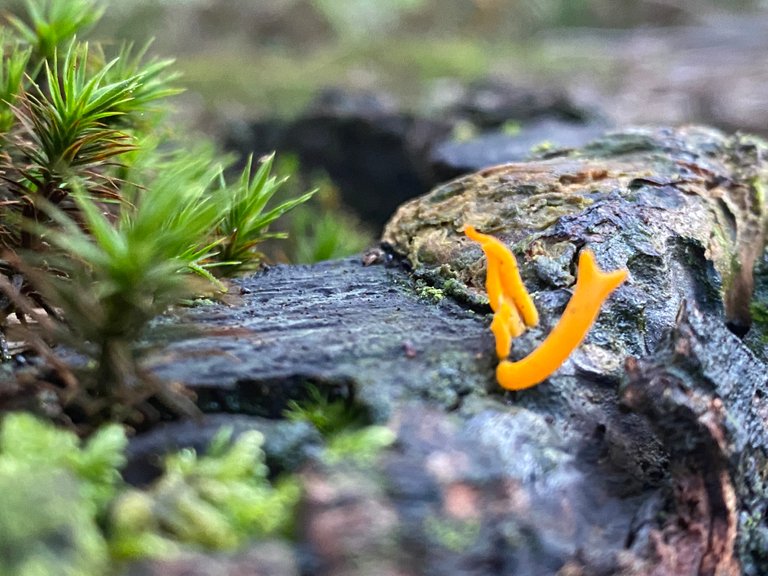 Here is something I never shared with you, mushroom lovers before. It's the app called 'SHROOMIFY'. Back in a day when I infected my ex with love for mushrooms, he found this app to be able to learn more and thanks to it we discovered more edible mushrooms that I've never knew or picked before.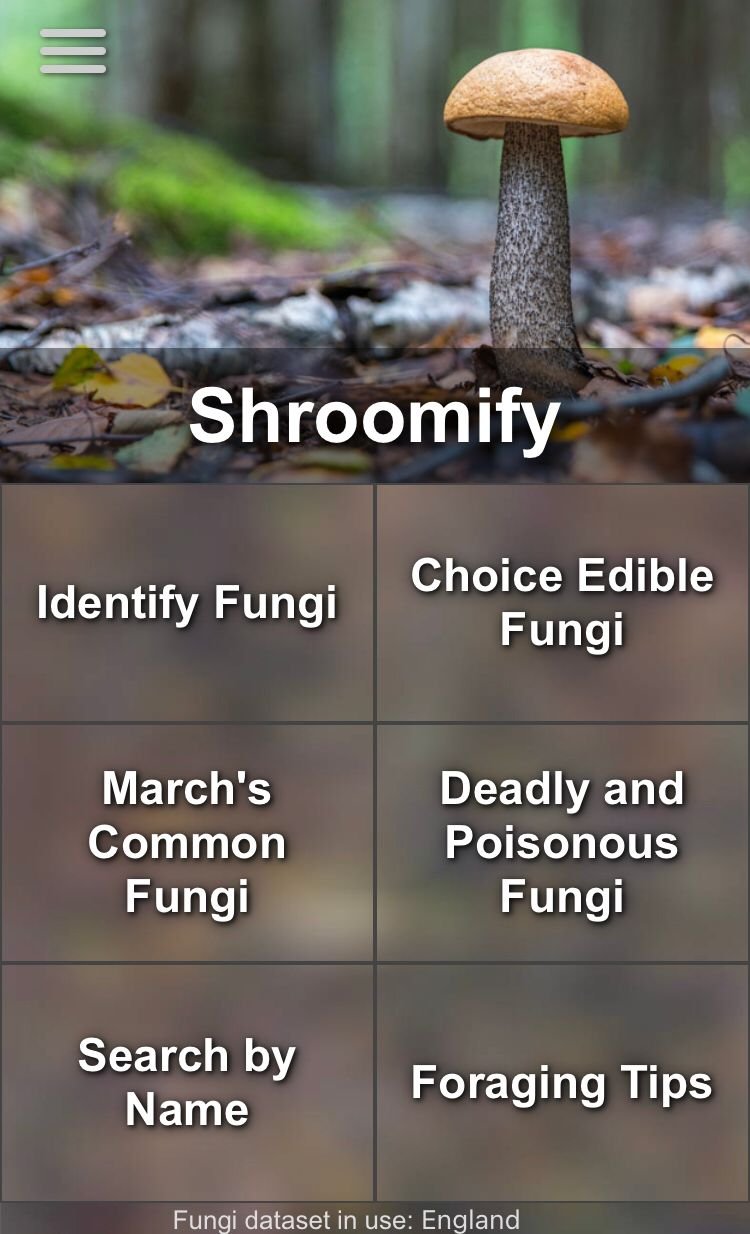 Quick search by 'coral' name shows many varieties that I have never seen before. To my surprise (I haven't opened this app for a long time) I realise that most of the white varieties are actually edible. Who knew?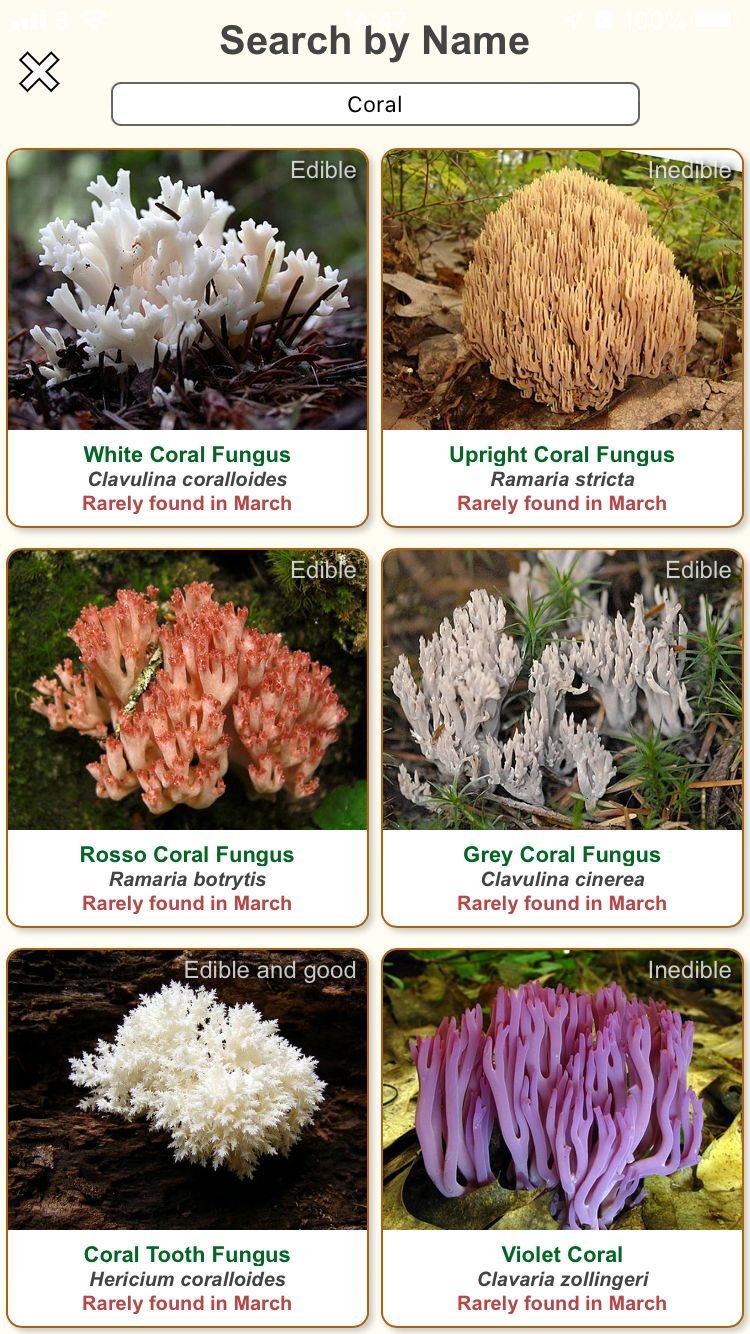 Look at those purple beauties though! I'd love to find some of these for my picture collection. It seems that here nature follows the usual rule - most things with striking colours are inedible or poisonous. It's nature's way of warning of danger. Good job it doesn't apply to chanterelles, cause I simply adore their taste.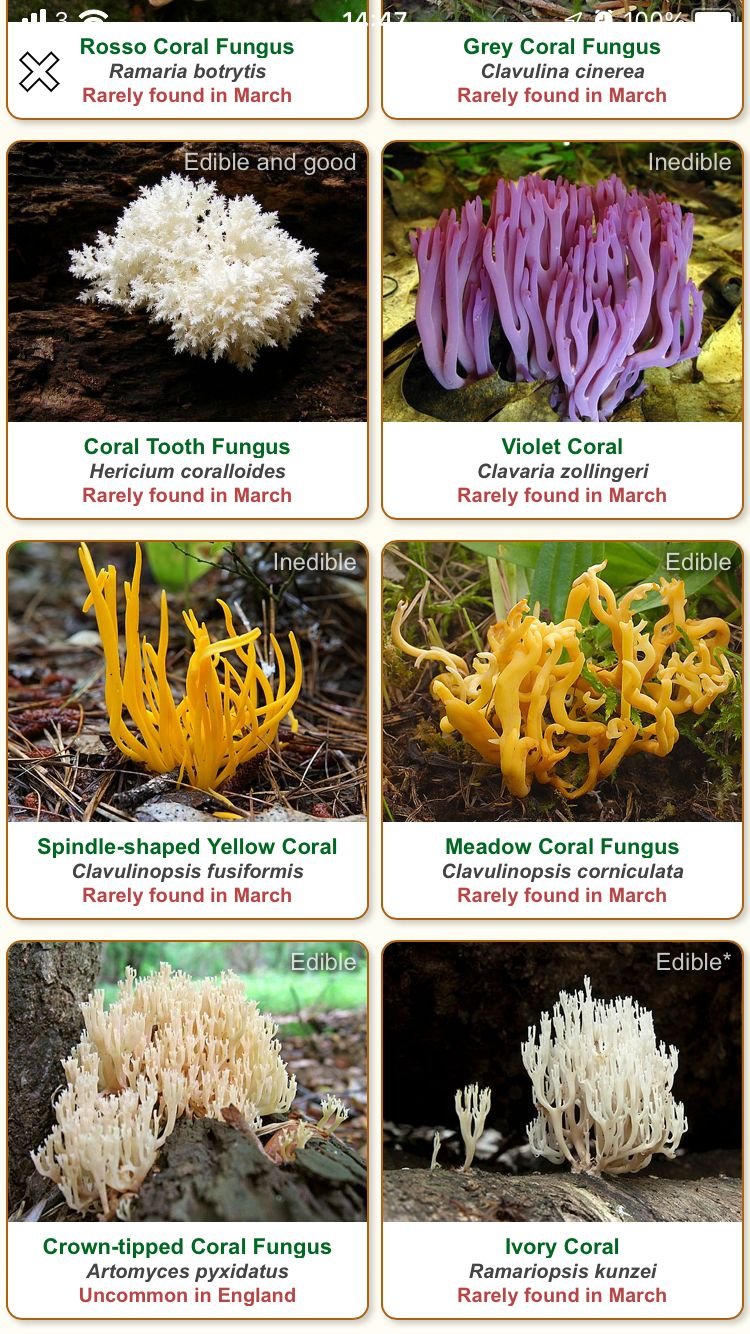 Back to my own pictures though, cause I still have a lot of them to share. What I love about those orange coral mushrooms is how great they contrast with their surroundings.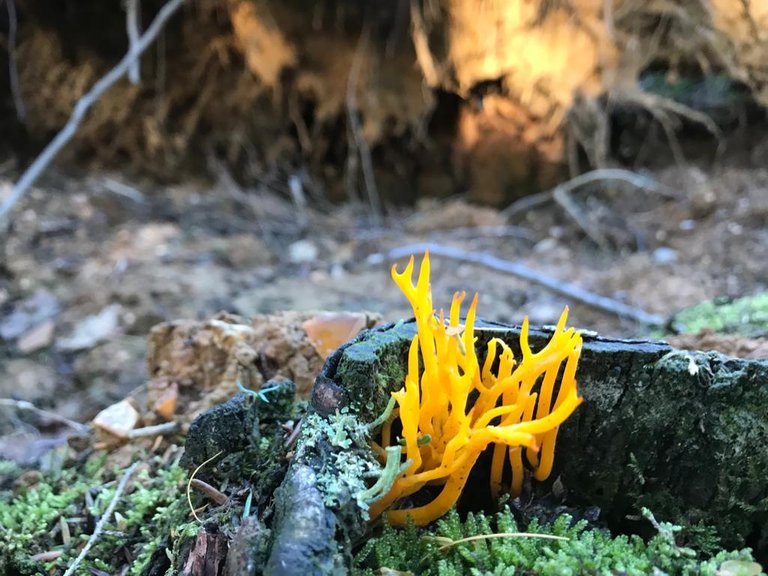 Even in the days when I played with editing apps a lot, I never had to play too much with these, cause they're just born photography models.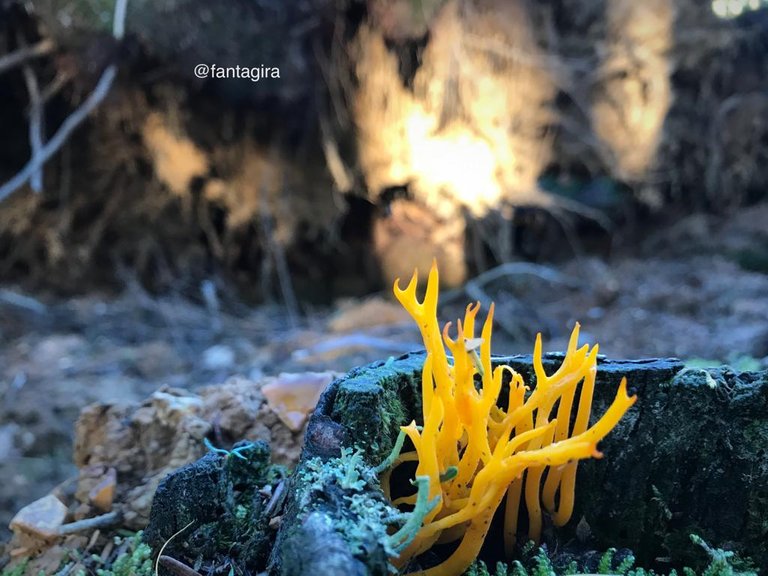 Sometimes I would take pictures minimising that contrast, making it look more autumny. No matter what, they look amazing everywhere they appear.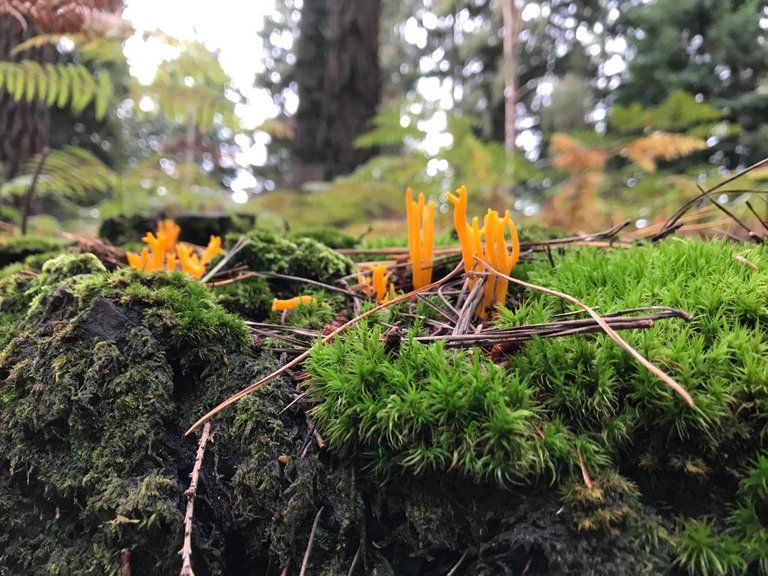 Sometimes I could find just a couple of single sticks, but I would still have to capture them. Cause it looks just a little different than the other or the structure on which it grows is also fascinating.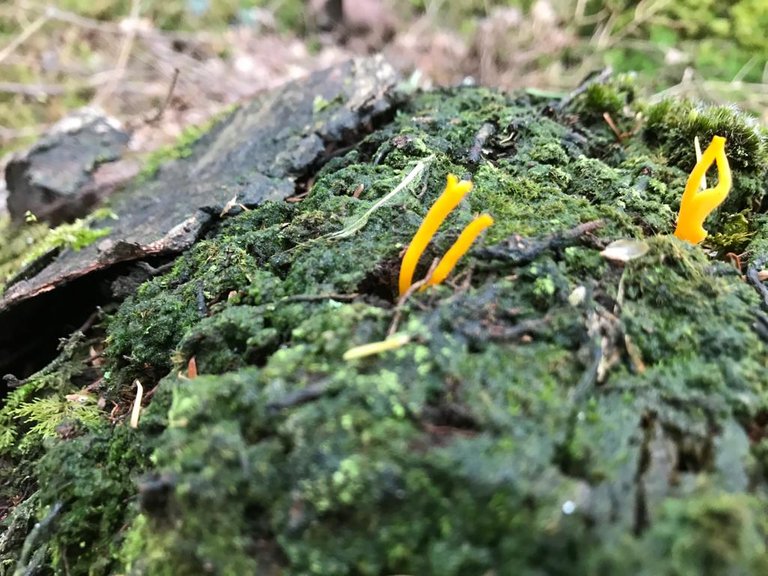 And sometimes I would think I manage to shot another head turner while at home it would turn out that it was a blury mishap ;)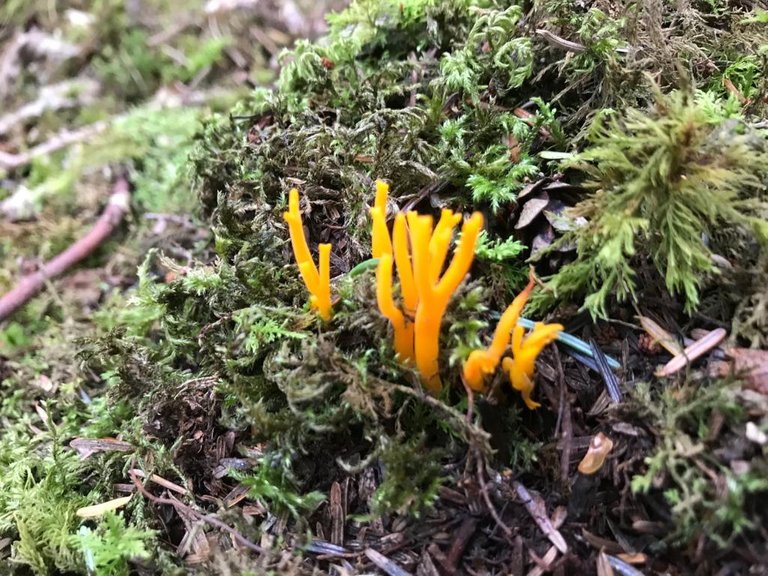 I like them the most around the green though. Maybe because coral reefs are full of striking colours, with green occuring rarely. It makes it exotic creature even more fascinating in my eyes.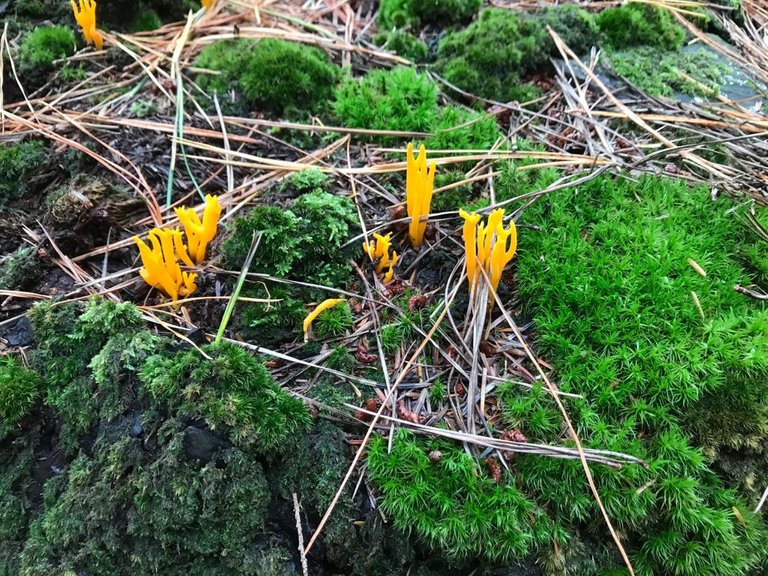 But hey - it looks amazing also arount pretty blunt colours.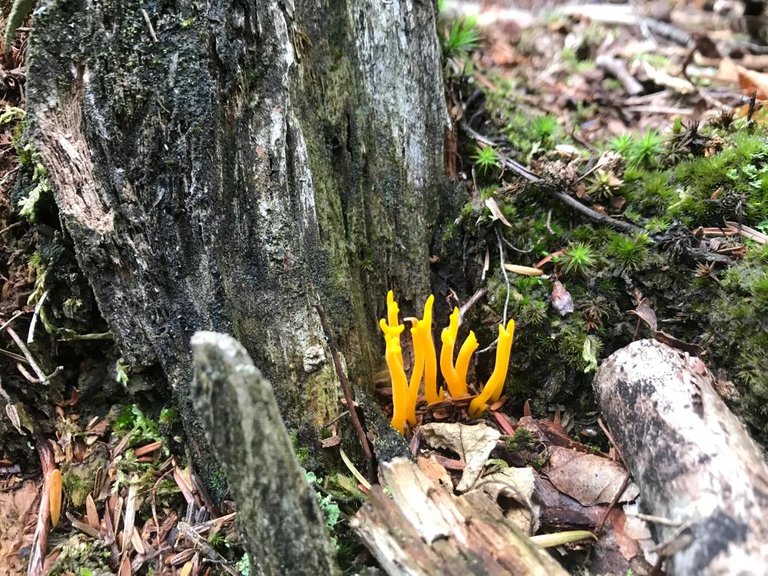 And how about corals with a bunch of other tiny mushrooms. Tell it's the cutest sight. Such an adorable bunch of coexisting creatures living on one decaying tree trunk.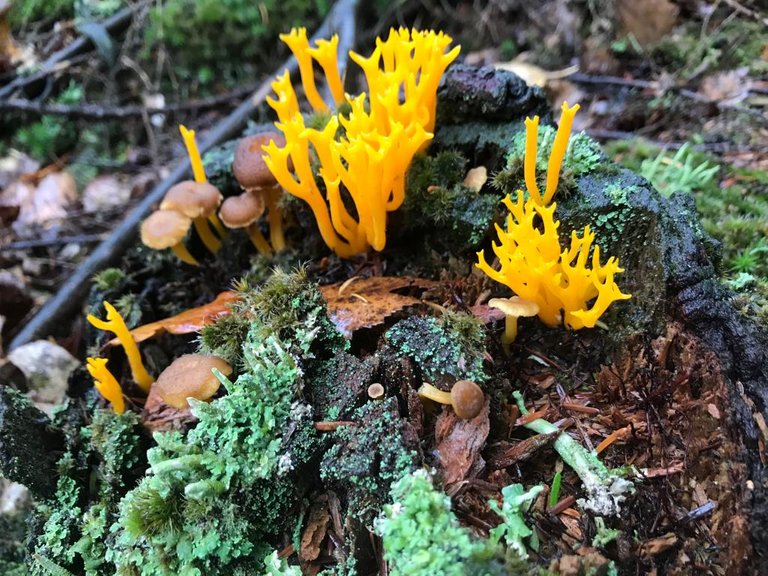 And sometimes, just sometimes, the new life sprouts amongts all this decaying matter. A life different than those rot loving fungi. A baby tree 😍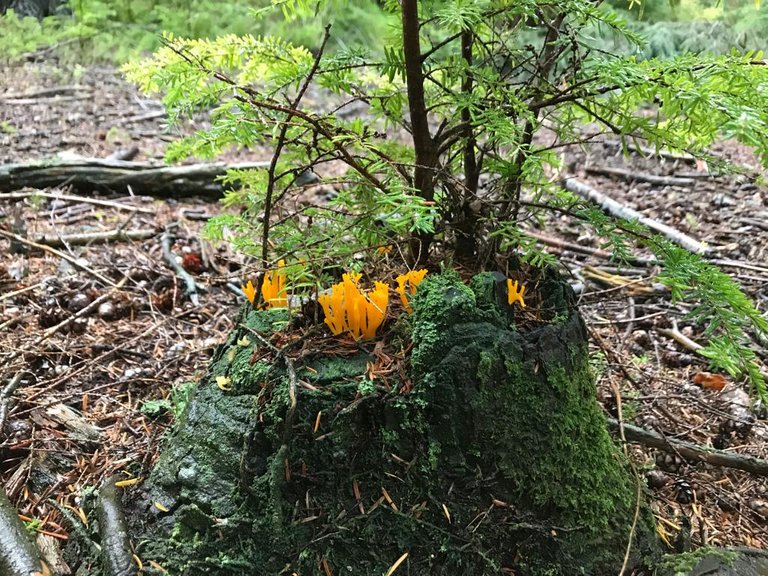 It always makes me happy to see a new tree, especially after so many of them were cut by our forestry couple years ago. They left a massive mess and many people angry. I haven't see any being cut last year luckily.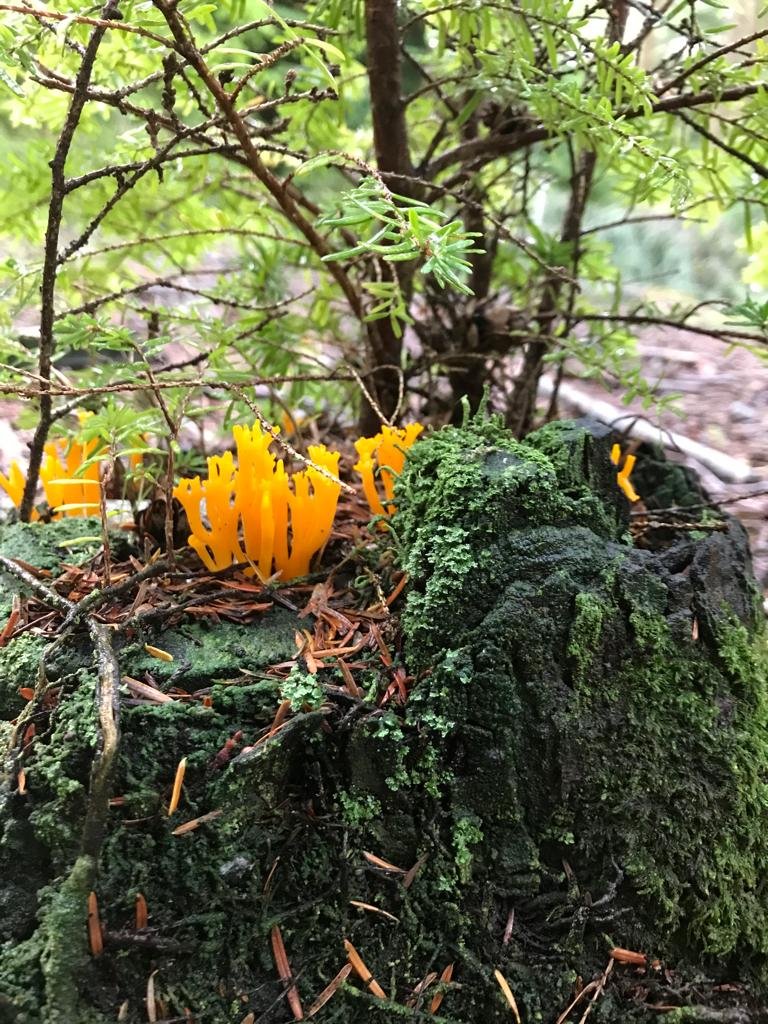 One more not very well focused white coral fungi. I guess my camera decided that moss was much more fascinating to capture. Happy Fungi Friday you all!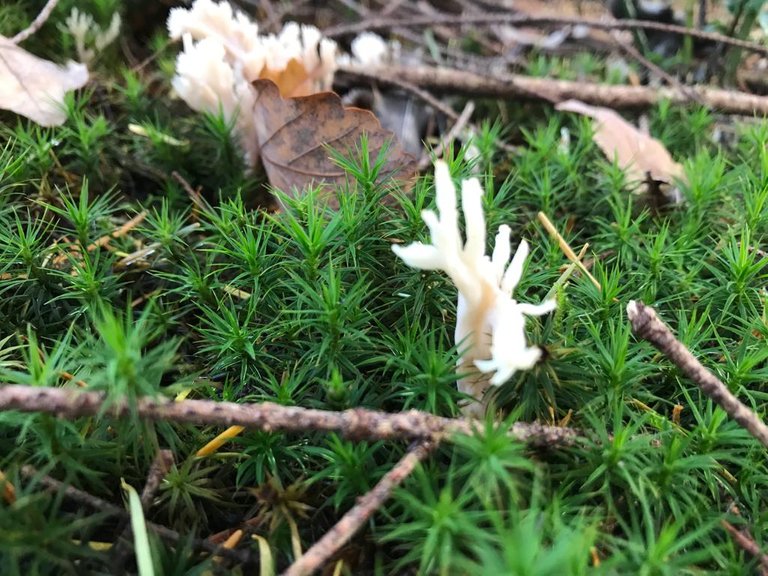 And I leave you in peace to enjoy the last 3 orange corals.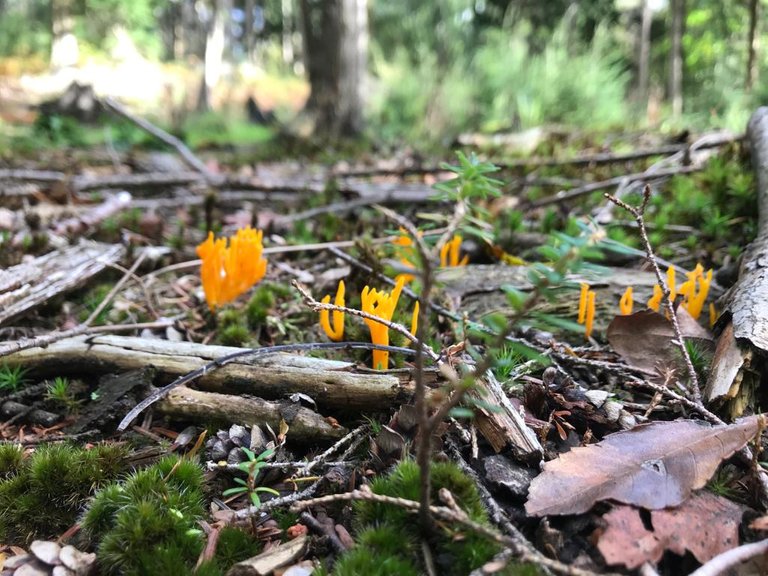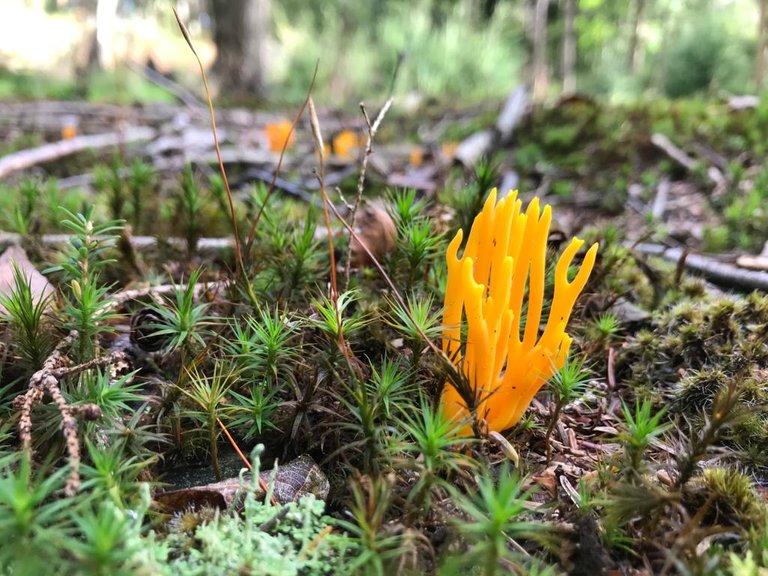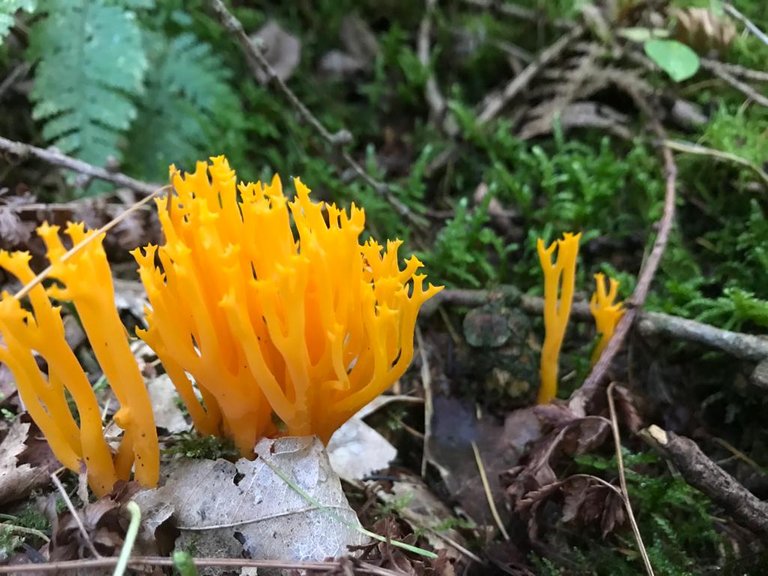 Until next time 💙
| Camera: | iPhone7 |
| --- | --- |
| Photographer: | @fantagira |
| Screenshots: | Shroomify app |