In this post I share that we have just created a Diesel Pool for ALIVE:ALIVEM, this way you will be able to trade them at a stable price, plus we have also added 3000 BEE as rewards for 365 days to liquidity providers, enjoy!
---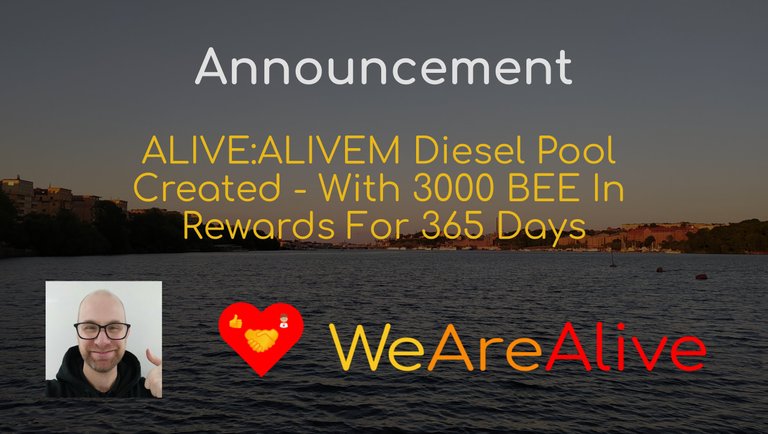 Made in Desygner, photo by Erik Gustafsson
Hi there and welcome to my blog, my name is Erik Gustafsson and I go by the handle @flaxz.
ALIVE:ALIVEM Diesel Pool Created - With 3000 BEE In Rewards For 365 Days
As most of you must know by now yesterday all ALIVEM sold at 10 Hive each was sold out, and we added the next batch of 1000 ALIVEM to be sold for 20 Hive each, all according to our selling strategy where we double the price for each 1000 ALIVEM put on the market.
As the price we sell the miners for has now doubled we also need to stabilze the market, and that is where a Diesel Pool comes in.
I have also been doing quite a lot of research into Diesel Pools, and specifically on the effect they have on long term market prices for tribe tokens, and that is why a pool to swap.hive was ruled out.
A Diesel Pool that has had much success though is the LEN:LENM pool from @achim03, @ph1102 and @mypathtofire, and it works because it creates demand for both tokens, while most people sell half their tokens for swap.hive to add liquidity to a token:swap.hive pool, and this is why an ALIVE:ALIVEM pool was the go to choice.
As part of making a pool successful also means that it needs liquidity then we have also added rewards to it, and the rewards are 3000 BEE tokens that is being distributed to liquidity providers once per 24 hours over the next 365 days.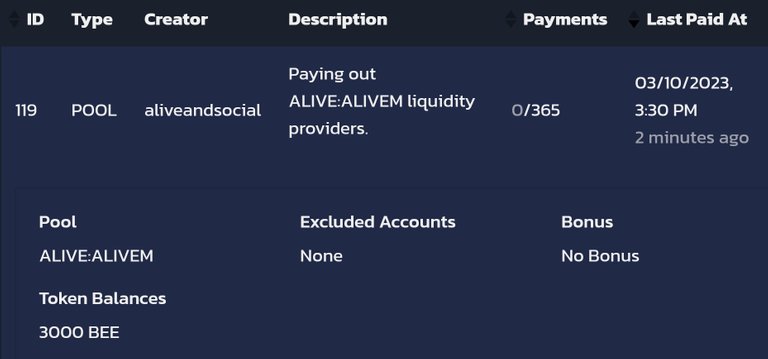 Screenshot from Tribaldex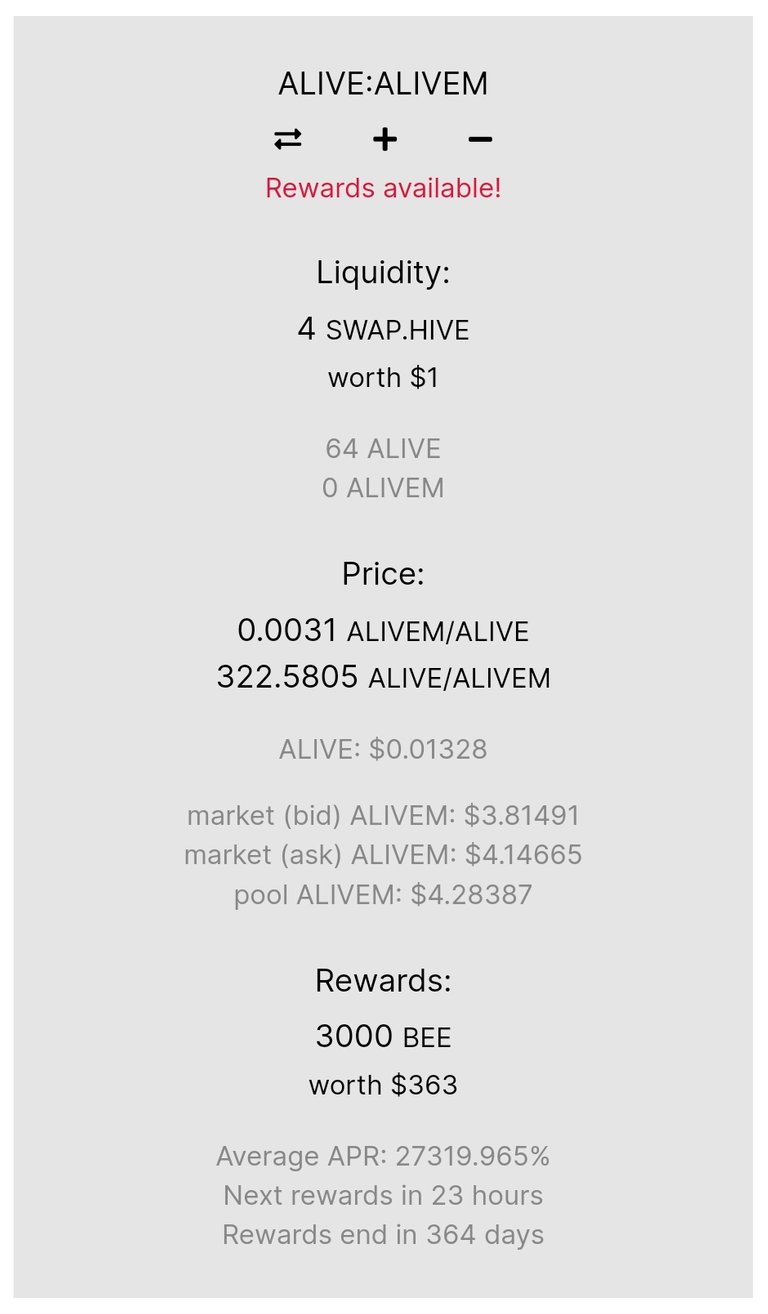 Screenshot from BeeSwap
Adding liquidity is of course a first priority so that people can use it to swap their tokens, and you can add liquity to this pool and start earning daily rewards in BEE using Tribaldex or BeeSwap, and you need an equal value of ALIVE and ALIVEM tokens to do that.
3000 BEE is the initial rewards, there might be more rewards added later on, but nothing is decided about that yet, we will see how it behaves first and get feedback when we see the pool in action.
As to why we went with BEE, well we are a BEE whale with over 20k BEE staked, which means we are the 3rd largest BEE stakeholder of all accounts on Hive.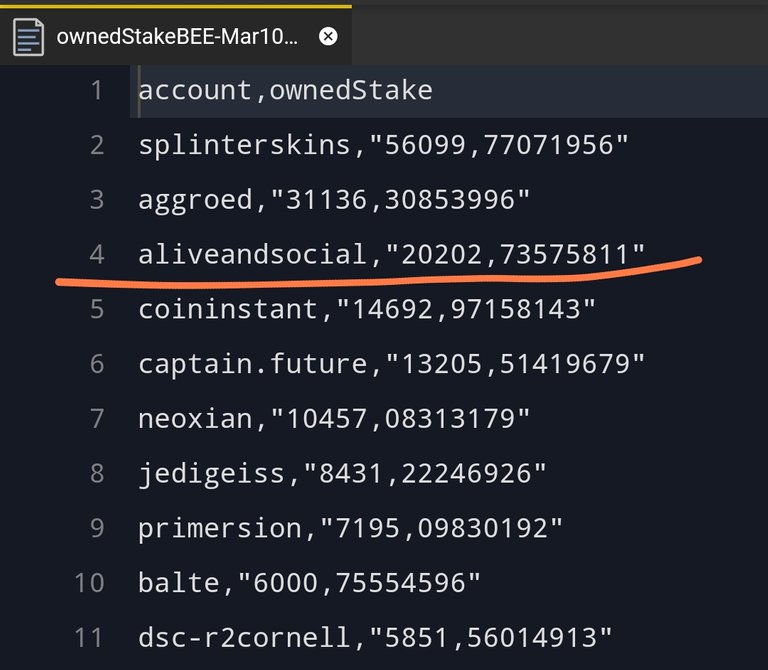 Screenshot from Acode
And we also have a stable income of BEE from curation rewards that easily covers the whole yearly rewards we just added, and we are investing in it by buying BEE when we sell ALIVEM and staking it to @aliveandsocial.
BEE is the token for Hive-engine, and you burn BEE any time you want to buy something from them which creates demand for it, plus the BEE tribe is on tribaldex.blog and you can post there using the #hive-engine or the #tribes tag, and we are actively curating posts using those tags in the We Are Alive Tribe using the @aliveandsocial account.
So enjoy our new Diesel Pool.
Thank You!
Thank you very much for reading this post and I hope you liked it, leave your thoughts in the coments below, and ...
Stay Awesome!
Sincerely,
Erik Gustafsson
My profile on We Are Alive And Social
This is my own personal opinion, do your own research before investing, and seek legal counsel if uncertain.
---
Click the ecover below to download my free ebook.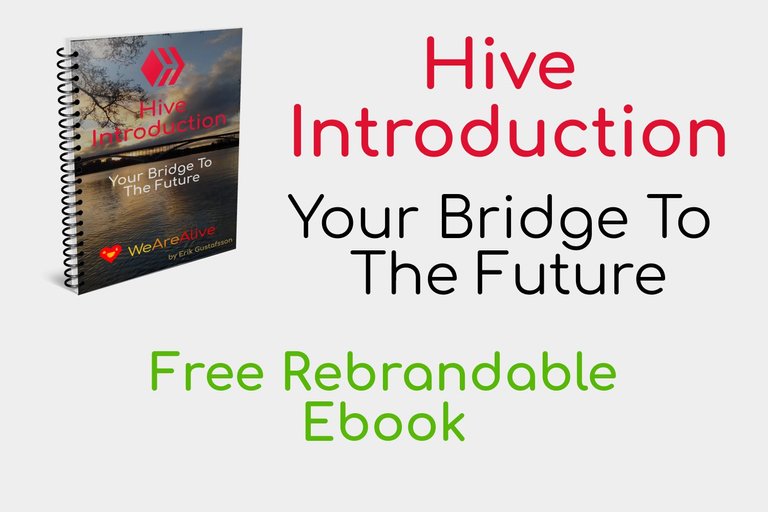 Made in Desygner and Adazing, photo by Erik Gustafsson
---