In this post I share the announcement that the new software for the ALIVE tipping bot has just been launched and is now in operation, plus also details of how it works, enjoy!
---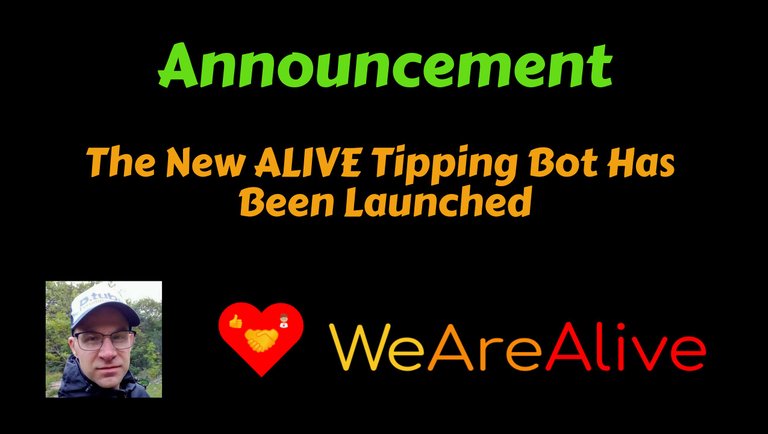 Made in Desygner
Hi there and welcome to my blog, my name is Erik Gustafsson and I go by the handle @flaxz.
Announcement: The New ALIVE Tipping Bot Has Been Launched
So as many of you know I have been working to get the new software for our ALIVE tipping bot up and running, and now it is in operation.
This software was forked from the Open Source PIZZA bot, and the code is available on Gihub, https://github.com/flaxz/alivebot
How Does It Work?
As before the comment command to send a tip is !ALIVE, and you need to have a stake of at least 1000 Alive Power to use it, this is counted as your own stake not including what you have delegated to others, plus including what has been delegated to you.
We have 4 levels, and the first level is as before while the higher levels are new.
Level 1: 1k AP = 10 tips per day
Level 2: 5k AP = 20 tips per day
Level 3: 20k AP = 30 tips per day
Level 4: 100k AP = 40 tips per day
We have also limited the number of unique tips that can be sent between the same accounts to a lower number.
In addition to this we are now staking the ALIVE tokens that we send instead of transferring them as liquid, and it's 0.1 ALIVE per tip as before.
As we now stake the tips we also expect that the number of stakeholders of ALIVE will increase, and we hope that this will increase demand over time.
So go out and use it, and also note that it's a new bot so we might run into a few issues along the way.
Thank You!
Thank you very much for reading this post and I hope you liked it, leave your thoughts in the coments below, and ...
Stay Awesome!
Sincerely,
Erik Gustafsson
This is my own personal opinion, do your own research before investing, and seek legal counsel if uncertain.
---
---