---
In this video I talk about the plan we have to start paying out dividends to ALIVE stakeholders, what time frame that we are looking at as a goal, and what the dividends will consist of and the broad picture to put it all together, enjoy!
---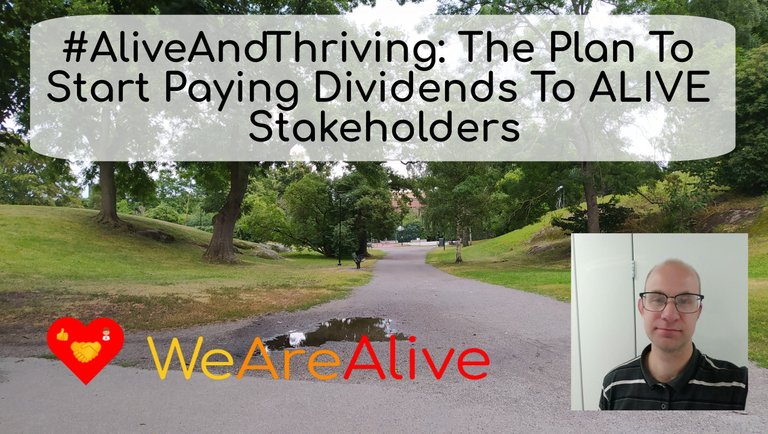 Graphic made in Desygner
Hi there and welcome to my vlog, my name is Erik Gustafsson and I go by the handle @flaxz.
---
#AliveAndThriving: The Plan To Start Paying Out Dividends To ALIVE Stakeholders
So I have mentioned about this plan to a few people already, but it is now time to put this plan into writing and share it with everyone so that we can get things moving a bit faster.
I will write it out here too so that non English speakers can get the details as well.
The Plan
The plan is to pay out daily or weekly dividends to ALIVE token stakeholders, and the dividends will consist of 4 tokens that also pays out dividends themselves.
So by staking ALIVE tokens, that are either earned or bought, then stakeholders will earn the above tokens in a daily or weekly payout that we will set up.
The Funds
The funds to buy the dividends that we pay out will come from @aliveprojects, and I am currently upping my beneficiary rewards to that account so that we will have a meaningful amount to pay out.
Currently we are compounding the earnings we have on that account and then use half of those to buy ALIVE tokens that we stake, and the other half is used to buy the 4 tokens we talked about above.
This will be slightly changed once we start to pay out dividends, we will use one third to buy ALIVE tokens for staking, and 2 thirds to buy the 4 above mentioned tokens, and half of those 4 tokens that we buy will then be used to pay out the dividends to ALIVE token stakeholders.
The Payouts
We will use the @youarealive account to do the payouts, and as I said either daily or weekly, and we have 2 reasons for that.
This account is already in use for our tipping bot, and therefore we have set up Beem with it's Hiveengine module for it on a small server instance that keeps running 24/7 and sending out tips, so the infrastructure to add the scripts and/or bots that we need for paying out divdends is mostly in place, we just need to code them too.
The @youarealive account also have a 500 HP delegation in place as well, which will hopefully be sufficient for the payout transactions as well, but if not it is easy to increase that.
The Coding
I have myself looked into some Python programming lessons on W3schools, however that is not sufficient to code what we need here, and I am not likely to have the time to learn it in the time frame that we want this to happen in, even if I am a fast learner lol.
I do however know of 4 coders in the We Are Alive Tribe, and at least 1 who have voiced interest in helping out with coding this, and I am sure that at least 1 more would also be very interested too.
So we will put together a team to code this thing and get it up and running.
The Time Frame
The goal is to have this all up and running within the next 2 to 3 months, it will take some time to get the funding to a higher level, plus we also want the new tribe ebook launched first before we launch payouts of dividends.
So that's it, what do you think?
Enjoy Watching The Video!
Thank You!
Thank you very much for watching my video, leave your thoughts in the comments below, and ...
Stay Awesome!
Sincerely,
Erik Gustafsson
This is my own personal opinion, do your own research before investing, and seek legal counsel if uncertain.
---
Credits For Music
Royalty Free Music from Bensound, track Hey!
---
---
---
▶️ 3Speak