---
Here I talk about Reward.app and that it is not yet compatible with earning ALIVE tokens on posts and videos.
---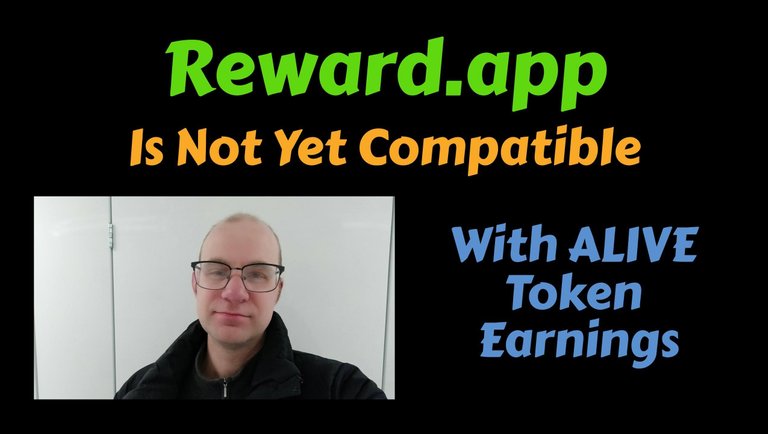 Graphic made in Desygner
Hi there and welcome to my vlog, my name is Erik Gustafsson and I go by the handle @flaxz.
---
Reward.app - Is Not Yet Compatible With ALIVE Token Earnings
So I noticed today when going through the richlist for the ALIVE token that quite a bit of them had been paid out to @reward.app, and I know that some people participating in the #IAmAliveChallenge is using that on their posts.
After some more investigation it turns out that @reward.app can't pay out those ALIVE tokens to the post authors since they don't have that info, Scotbot makes payouts once per day for each account that is eligeble for a payout, but it comes in a clump sum without any details of what they are for.
That means @reward.app can't see who is giving them the beneficiary for any rewards they recieve, and this means that any post or video that use this dapp do not get their author rewards in ALIVE tokens.
Do also note that this does not affect any curation rewards, only author rewards for posts setting @rewards.app as beneficiary are affected, all other posts are just fine.
This only affect author rewards for posts using @reward.app to recieve liquid Hive reward payouts, everyone else is just fine.
What can be done to fix this is to update Scotbot, and tell it to ignore beneficiaries to @reward.app for our ALIVE token, however any change cost 100 BEE to make each time that a change is made, so this will not happen now.
Instead we will change this when we change it for the miners, to enable the miners we need to enable Staking for the ALIVEM token, and then also enable the Mining Smart contract, plus change the daily rewards in Scotbot to make room for mining rewards.
That is when we will include this change to Scotbot so that @reward.app becomes compatible with the ALIVE token, in the meantime I will notify all that uses this dapp in our tribe, and please do not use @reward.app until this change has taken place.
Enjoy Watching The Video!
Stay Awesome!
Sincerely,
Erik Gustafsson
This is my own personal opinion, do your own research before investing, and seek legal counsel if uncertain.
---
Credits For Music
Royalty Free Music from Bensound, track Hey!
---
---
---
▶️ 3Speak