---
Here I talk about the We Are Alive tribe, what the tribe is about and posting guidelines for what content we want in it.
---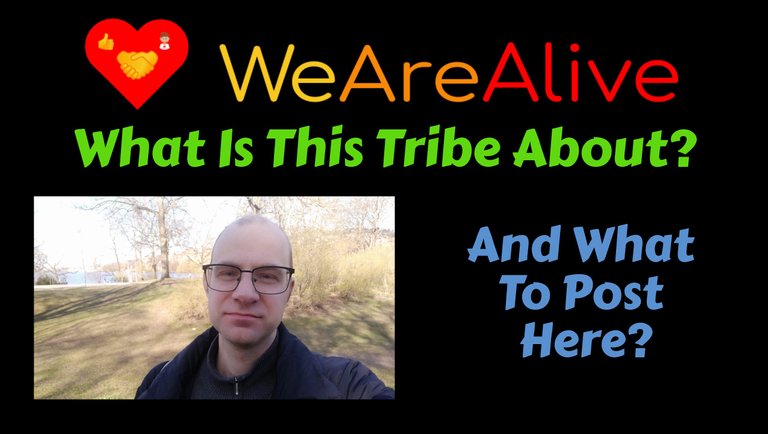 Graphic made in Desygner
Hi there and welcome to my vlog, my name is Erik Gustafsson and I go by the handle @flaxz.
---
We Are Alive - What Is This Tribe About? - And What To Post Here?
Edit: This guide is now deprecated, please read the new official guide for the We Are Alive Tribe.
So we launched the We Are Alive Tribe 4 days ago on Friday, and it's fantastic to see everyone excited about it, and thank you all for your great support to make it happen.
Unfortunately with this attention we also get some content that is unrelated to what out tribe is about, and we have yet to post any posting guidelines, so here I will lay out what our tribe is about and what content we want here.
The Main Core Of We Are Alive Tribe
At the core the We Are Alive tribe is for the #IAmAliveChallenge and the #LukeIsAlive contest, and you can post here either through our interface or by using the #alive tag.
The #IAmAliveChallenge is about celebrating being alive, to remember that and to share it despite all the hardship that we might go through in life, and here is the 4 points to take part.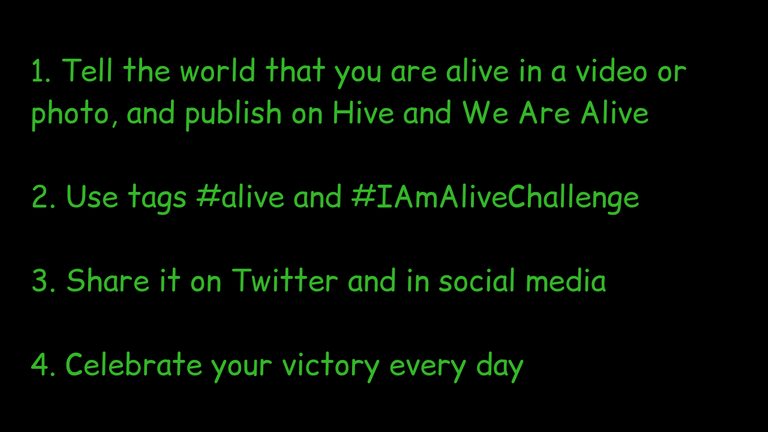 Made in Canva
Since it is your life there is no problem to combine your posting for the #IAmAliveChallenge with whatever you want really, just make sure you have the 4 points above and to clearly mark your post, maybe say IAAC in the title combined with your topic.
Here is the official guide for how it works, I Am Alive Challenge - The Guide, and we have also created the I Am Alive ebook, which will soon be updated to include our new tribe.
Our ebook was also where Luke first appeared, and it has since grown into it's own contest called the #LukeIsAlive contest which is owned and run by @maddogmike on the @lukeisalive account and the most up to date info on how it works can be found in the Luke Is Alive Community.
What the #LukeIsAlive contest is about is to build your email list using the I Am Alive ebook as a lead magnet to get subscribers and referrals through that, and also use it to get more visitors to your blogs on Hive and We Are Alive, plus of course also more participants to the #IAmAliveChallenge and the #LukeIsAlive contest.
What you do is to go hunt for Luke in different advertising sites and that gives you credits which you can use to get visitors to your Lead Capture Pages for your list, and when you find Luke you take a screenshot of that and include it in your posting for the #LukeIsAlive contest, your Proof Of Luke.
Finding Luke 5 times and completing the Scavenger Hunt gives you 6 tickets for the daily prize drawing given that your post has at least 50 words, plus you can get 6 more tickets for various additional things and you find the info about that in the Luke Is Alive Community.
So posts and videos for the #IAmAliveChallenge and the #LukeIsAlive contest is most welcome since it's the core of our tribe.
Posts That Are Supporting The Core
In addition to this posts and videos that are not taking part in the #IAmAliveChallenge or the #LukeIsAlive contest, but are about them are very welcome.
So is also posts and videos of projects that aim to support them and to support the tribe and our ALIVE token.
The Alive Engagement Contest on @iamalivechalleng is a good example of such a project, and we look forward to see more projects popping up from members.
Posts About The Tribe And Our Token
Finally we also welcome posts and videos about our tribe, like statistics for example, and about our ALIVE token.
That's about it, I hope this makes it much clearer of what the We Are Alive Tribe is and what content to post here.
Enjoy Watching The Video!
Stay Awesome!
Sincerely,
Erik Gustafsson
This is my own personal opinion, do your own research before investing, and seek legal counsel if uncertain.
---
Credits For Music
Royalty Free Music from Bensound, track Hey!
---
---
---
▶️ 3Speak