---
Here I talk about Scotbot and that I have just updated it so it is now compatible with earning ALIVE tokens, which has been done by excluding them as token beneficiaries.
---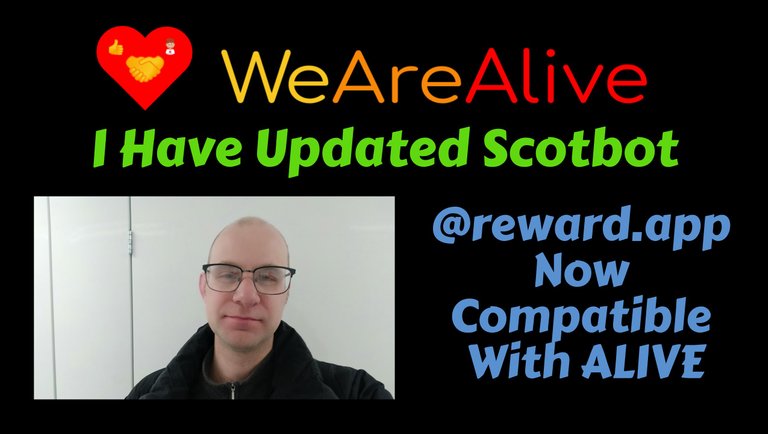 Graphic made in Desygner
Hi there and welcome to my vlog, my name is Erik Gustafsson and I go by the handle @flaxz.
---
I Have Updated Scotbot - @reward.app Now Compatible With ALIVE
So after finding out that ALIVE token earnings was not compatible with @reward.app which is a service to earn all author rewards in liquid form I decided to compensate earlier posts myself, Reward.app Update - I Am Using My Own Earnings To Compensate.
Since then I have also been trying to get people to stop using that dapp until we can fix it, which I intended to do when we launch the miners.
However some people have just ignored my comments about it and this would have just kept paying out ALIVE tokens to @reward.app which don't have the info to pay them out to the right accounts.
They have so far also kept all funds liquid without either selling or staking, and that would have become one big unknown factor that I don't feel comfortable with.
So I have now paid for 100 BEE myself and updated the settings of Scotbot to ignore @reward.app beneficiaries for ALIVE token rewards, which means they will now be paid out to the authors instead.
This means it is now fixed for all payouts from the time it was updated, and I have also paid from my own earnings to all accounts with posts that paid out before the update.
I will publish the full details of those payouts either on Monday or Tuesday.
Enjoy Watching The Video!
Thank You!
Thank you very much for watching my video, leave your thoughts in the comments below, and ...
Stay Awesome!
Sincerely,
Erik Gustafsson
This is my own personal opinion, do your own research before investing, and seek legal counsel if uncertain.
---
Credits For Music
Royalty Free Music from Bensound, track Hey!
---
---
---
▶️ 3Speak