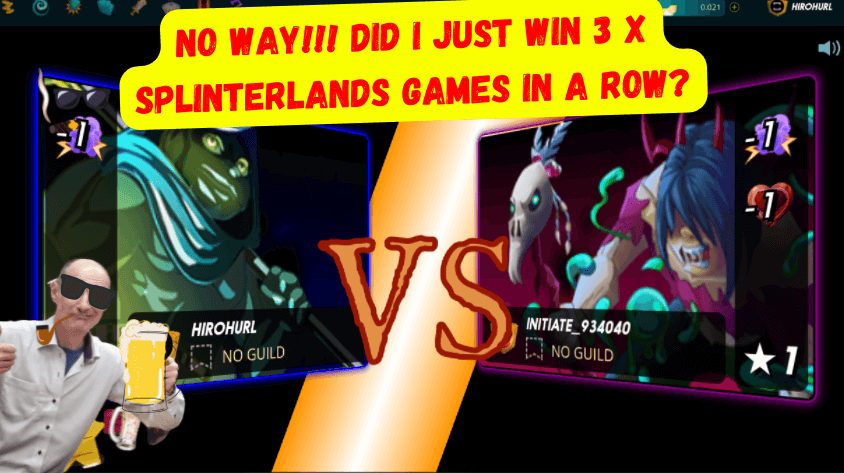 My dear friends!
I trust you are all #alive and well!
Me?
Thank you for asking... I'm fine thank you but can't quite believe what happened to me tonight...
After a fine afternoon out and about with a good friend of mine, I returned home around 9pm and played a few games of Splinterlands...
(The thing is, my friend would be a MUCH better player than me if he caught the Splinterlands bug. My aim is to infect him with it in March and then rise on his coat-tails in the Splinterlands rankings...)
Anyway, as I says, I got home this evening and thought I ought to play a game or two of Splinterlands just so that, if I have to explain it to my friend to get him onboard, at least I'll know more or less what on earth I'm talking about.
So it was in this altruistic spirit that I played some Splinterlands games...
That's when I found myself saying to myself...
"No, seriously you must be joking!"
You see, I have invested nothing into playing the Splinterlands game. I don't really know how to win Splinterlands games... but this evening I won three games in a row for the first time ever...
At first, I thought I'd make a video of my first win (which was only my 2nd "real win" ever)...
But then I played another game and won that one too...
So I made another video...
Then I played and won a third game...
So I made another video...
The chain kind of broke down after that... I didn't lose a game though... What happened was that the other guy surrendered before the game started.
So I am in the ridiculous position of having won three "real" games in a row with my chain of actual victories being brought to an end when my opponent surrendered before the game had started...
Anyway, I edited and merged the three videos and here they are:
How To Play Splinterlands (but don't take my advice)
Okay, here's all I know... bung close quarter fighters in the front, distance warriors behind them (so they can hurl axes and shoot arrows and whatnot) and if you have any spare mana, bung a poisonous whatsisname or two in the back.
That's all I can give you in the way of Splinterlands tips! But do not dispair! Keep playing and learning from your losses as well as your wins and pretty soon you will be #aliveandthriving :)
Ganbatte!
David Hurley
#InspiredFocus
Join me in playing this Hive blockchain based game and earn crypto for your efforts: https://splinterlands.com?ref=hirohurl