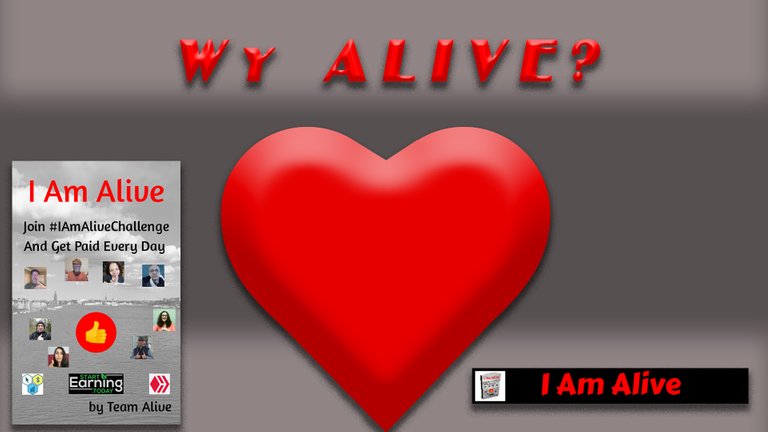 Logo We Are Alive Tribe and image owned by We Are Alive Tribe Edit by @stdd - Font used is Open Source

Hey there!
Today we're going to talk about a community with its Hive second layer token, which has a lot of its own advantages, but is underrated at the moment, in my opinion! If you're new to Hive, you should definitely take a look at this. Especially if you don't know what to write about. If you're a Hive whale, you're probably looking for diversification, collaboration, or investment options, you might want to check out this community too!

My Story
Having published in many communities, I searched for my community for a year. I noticed We Are Alive Tribe right away, but I didn't have the basic time and attention to read all the materials carefully. But I liked the idea right away. Perhaps that's why I now want to stop you to turn your attention to the community. It's simple, vital and sincere! After a few months, I came back to it when I was evaluating the stability of the project and its participation in Hive. I really liked what I saw! That's what my story will go on about next. Let's get started!

Wy Alive!
A team that grows before my eyes every month! This means that you will never be missed or forgotten if you put minimal effort into your content. As the team grows, so does the community! You can't do alone what you can do together. It's a law of life. And a team like this can show great results in as little as six months. Just check it out!

Stable token rate. This is something that surprised me a year ago and I started watching and figuring out how it happens in a bear market. There are many reasons I won't dive into, but the main one is working on the project every day and the ecosystem created within Hive. But the ecosystem has just begun to bud and is now growing. Think about it! Who can boast the same?

The token ecosystem We Are Alive Tribe. One of the team members @ironshield wrote an excellent post on this, so I'll just leave a link to his post and say a few words. Read this: Why I invested 100 HIVE into the ALIVEM Token. By the way, I also bought 1 ALIVEM token today and will continue to do so! Going back to the ecosystem, if you participate in the community and keep native tokens, you get second layer tokens that you profit from in Hive and other tokens. It may seem complicated, but by growing one token, you grow and diversify on Hive at the same time! Second layer tokens are just now showing their strength, a year from now we will all wish we had participated. Not financial advice, but let's see!

Daily rewards for community involvement. A very important thing, especially when you're new! I felt it right away when I started participating in the community, so I fell in love with it after a couple of posts. First, you're never on your own and a few cents a post. Second, you see how other members are moving, making plans, executing them, failing, getting frustrated, but moving on, because the support is really tangible! We're all living people... Check out these posts:
Alive Chat September 28, 2022 - Daily Prize Drawing OPEN For Entries - Today's Topic: Stake Your ALIVE Tokens - And Get A Stake Boost Tomorrow
The ease of participation. In fact, I didn't understand it right away. Maybe it's a complicated instruction or my English isn't perfect, but it's really simple! All you have to do is write a post about what you did today and tag #alive and #aliveandthriving. It's like proof of your life and presence on Hive! Did you go for a walk and take some pictures? Yes! That's great, tell us about it! Are you having trouble and don't know what to do about it? Yes! Share! We'll either cheer you up or give you some advice from our lives! Just do the tags #alive and #aliveandthriving! We're all alive here and will definitely appreciate it if you tried!

Conclusion
I had days when I got discouraged and looked for my community. I wasn't accepted anywhere, but I tried and looked. Until I got into WeAreAlive! I think I was accepted right away. I felt like people just sensed my desperation. Maybe they did. 😅 But I think not, the community is so native that it feels like visiting family. Tea? Okay. Problems? Tell me, let's think about it! Joy? Yes, we're happy for you! And there's a fireplace burning in the corner and stories being told that make you feel warm and peaceful...
I may not have touched on many aspects, but believe me, it's enough for many. Stability with growth potential, good people, a great team and your value! What else do you need to be happy while you're alive?
I am alive! We are alive! Remember that!

Links
Hive

Discord


I am also a member of the following communities!⬇️
All banners are clickable