English
This year we have seen a large number of hacks to blockchain networks that, among their advantages, guarantee the security of our funds and the network itself.
In this year 2022 we have seen networks such as Solona, Binance, Axie Infinity, to name the most important, and in the past the list is quite long.
We know that this market moves significant volumes of money, which attracts cyber criminals, but we also know that blockchain guarantees security, something that is beginning to be questioned thanks to these major vulnerability events that have been occurring.
It is important for blockchain ecosystems that development teams focus first on network security to give their users confidence and to attract potential investors who are not yet in.
Hive has earned a good reputation in this regard, and we expect the developer team to continue this work, ensuring network security and keeping up with the development of new features. This is a point that can be exploited as marketing, as we have a DEX that is growing all the time.
I don't have great knowledge on how the blockchain algorithm works, but if someone does, and can give us an explanation of why we are seeing so many security flaws, it would be of great help to everyone.
Translated with www.DeepL.com/Translator (free version)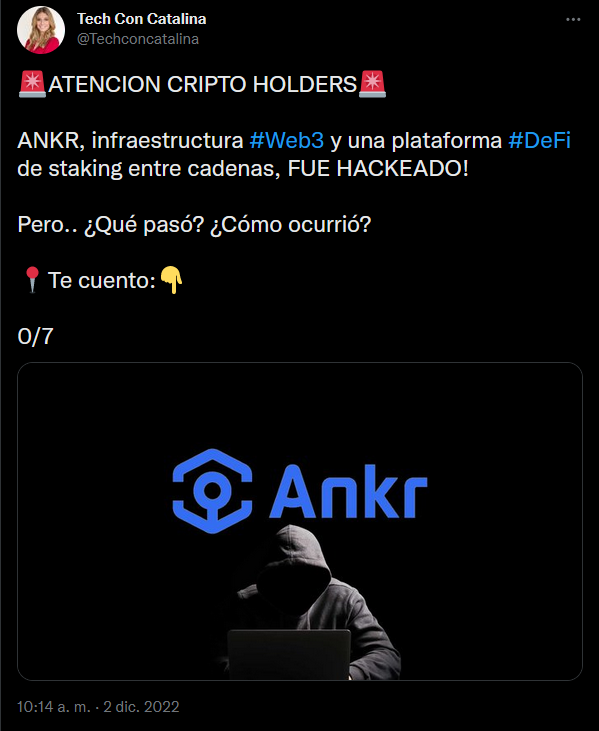 Español
Este año hemos visto una gran cantidad de hackeos a las redes blockchains que, dentro de sus ventajas, nos garantizan seguridad de nuestros fondos y de la misma red.
En este año 2022 hemos visto vulneradas redes como Solona, Binance, Axie Infinity, por nombrar las más importantes, y en el pasado la lista es bastante larga.
Sabemos que este mercado mueve volúmenes importantes de dinero, lo que atrae a los cyber delincuentes, pero también sabemos que blockchain nos garantiza seguridad, cosa que se comienza a poner en duda gracias a estos grandes eventos de vulnerabilidad que se vienen presentando.
Es importante para los ecosistemas blockchain, que los equipos de desarrollo se centren primero en la seguridad de la red para brindar a sus usuarios confianza y para captar a los inversores potenciales que aún no entran.
Hive ha ganado una buena reputación en este sentido, y esperamos que el equipo de desarrolladores continúen con esta labor, garantizando seguridad en la red y manteniendo el desarrollo de nuevas funcionalidades. Es un punto que se puede explotar como marketing, ya que tenemos una DEX que no para de crecer.
Yo no tengo grandes conocimientos sobre cómo funciona el algoritmo de la blockchain, pero si alguien los tiene, y puede darnos una explicación de por qué estamos viendo tantos fallos de seguridad, sería de gran ayuda para todos.
---
Images are my own or screenshots taken by me, unless outside sources are indicated.
---
Follow me on Twitter
Posted Using LeoFinance Beta